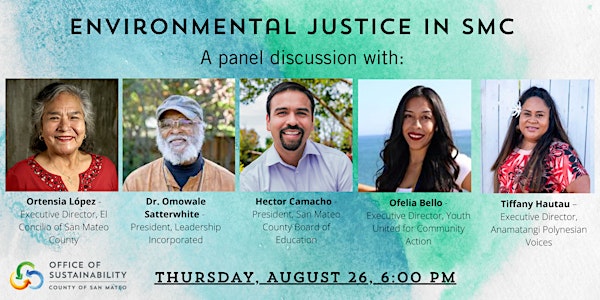 Environmental Justice in SMC - A Panel Discussion with Community Leaders
A discussion featuring San Mateo County community leaders who work daily at the intersection of environmental, social, and racial justice.
About this event
This panel discussion will bring together an amazing group of people who work daily on issues of environmental and racial justice in San Mateo County: Ortensia López - Executive Director, El Concilio of San Mateo County; Dr. Omowale Satterwhite - President, Leadership Incorporated; Hector Camacho - President, San Mateo County Board of Education; Ofelia Bello - Executive Director, Youth United for Community Action; and Tiffany Hautau – Executive Director, Anamatangi Polynesian Voices. Each panelist will present briefly on their work, and then engage in discussion to clarify the interrelatedness of social, racial, and environmental justice; bring attention to local issues of environmental racism; highlight local environmental justice work; and identify key areas for action and change.
After attending this discussion, it is our hope that you will be more familiar with environmental racism issues here in San Mateo County, the root causes of these issues, and the critical work local community leaders are doing to address them. We hope that you will also leave with a clearer understanding of how social and environmental issues are interrelated; have ideas of how you can participate in bringing about positive social change; and have a sense of the broader policy and societal changes community leaders envision that can address these inequities.