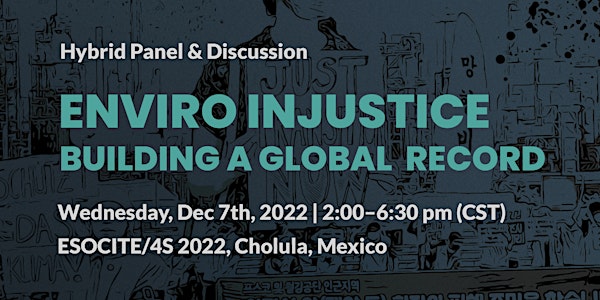 Environmental Injustice: Building a Global Record
Panel presentations and discussion about environmental injustice in different settings.
About this event
Environmental injustice involves cumulative and compounding, unevenly distributed vulnerabilities, hazards, and exposures – produced locally, regionally, nationally and transnationally – with open-ended effects on bodies and ecologies. The problems are planetary, structural and deeply institutionalized while also deeply local. The intersections that produce environmental injustice are also tightening and intensifying (as when extreme weather threatens industrial operations and waste management, for example).
Research strategies that draw out complex connections are thus critical – drawing out the high dimensionality of environmental injustice in particular places, connecting geographically distributed people working on similar problems, connecting research to teaching, building transnational webs of support. This is the aim of the Environmental Injustice Global Record project, hosted by the Disaster-STS Network.
Presentations on this panel will share work developed through the Environmental Injustice Global Record project, inviting feedback on research findings and on the project's shared analytic framework, digital infrastructure and overall design. The panel is fully in step with the ESOCITE/4S 2022 meeting theme focused on ways to come together anew (in difference), striving to reconfigure and repair broken worlds.
More information: https://disaster-sts-network.org
Session I: 2:00 – 4:00pm CST
Wen-Ling Tu | Understanding Petrochemical Harm: A Collaborative Ethnography of Kaohsiung, Taiwan
Leonel Flores, José Rea, Karishma Kumari Khanal, Taina Miranda Araujo, Aiden Lee Browne | Making the Environmental Justice Community: Articulating Local Air Pollution Knowledges in Santa Ana, California
Sherri White-Williamson, Mollie Donovan, Danielle Koonce, Dana Powell, Grace Katona, Ben Pluska, Bekah Nielsen, and Rebecca Witter | The Environmental Justice Community Action Network: Living with, against, and well beyond environmental injustice in Sampson County, North Carolina (USA)
Tim Schütz | Relays Toward Just Transition: Civic Science and Archiving Vs. Formosa Plastics Corp.
Hyunah Keum | Plastic waste made invisible: Governmental control over wastes during the COVID-19 pandemic in South Korea
Session II: 4:30 – 6:30pm CST
Phillip Max Baum | Local resistance against industrial (toxic) waste dumps and citizen research practices in the Middle German Chemical Triangle
Thomas DePRee | Remembering, Restoring, and Re-story-ing in the Remedial Project Management of Ecological "Sacrifice Zones" near Red Water Pond Road Community, Navajo Nation (Diné Bikéyah)
Fred Ariel Hernandez & Margaret Tebbe | Scales of Data: Mapping and Communicating Environmental Hazards
Powell,  Dana E., Ying-tzu Ena Chang, Tana Takisvilainan (Panay Kumod), Abus Istasipal (Cheng Yi Chun) | Bunun Trailmaking as Environmental Justice Knowledge-Practice: Critical Walking Modalities to "Pay Respect to Mountains and Seas"
James Adams | En/Countering Petro-racial Capitalism: A Transversal Approach to Just Energy Transition in Austin, Texas