You are cordially invited to attend the Arlington County Board Candidates Environmental Forum in collaboration with EcoAction Arlington
About this event
Environmental Forum for County Board Candidates
Wednesday, October 20, 7 – 8:30 p.m.
Virtual via Zoom
Free, registration required
Join EcoAction Arlington for a forum to discuss climate change, energy, smart growth, resiliency, equity, and natural resources with the candidates for the Arlington County Board election on November 2: Mike Cantwell (I), Audrey Clement (I), Takis Karantonis (D), and Adam Theo (I). The event will be moderated by Silvia Lucero, EcoAction Arlington board member. Please read the candidates' responses to our environmental questionnaires on our website. Registration deadline is by 9 a.m. on October 20. Register on our website: https://www.ecoactionarlington.org/get-involved/events/candidates-forum/
This event is organized by EcoAction Arlington in partnership with the following co-sponsors: the Arlington Hub of the Faith Alliance for Climate Solutions, Audubon Naturalist Society, CSG: Coalition for Smarter Growth, and Leaders in Energy.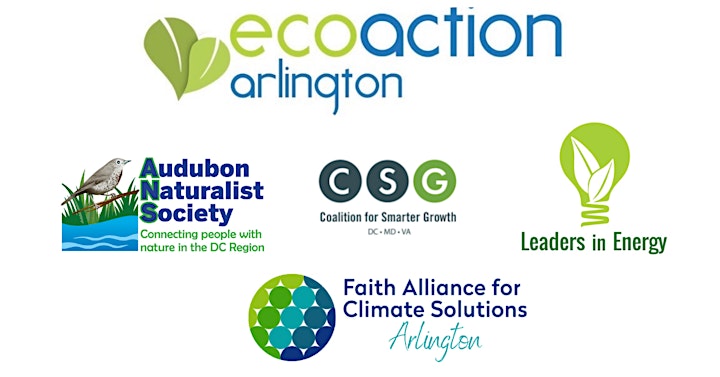 Organizer of Environmental Forum for County Board Candidates
The mission of EcoAction Arlington is to protect and improve water, air, and open spaces in the Arlington community and nearby areas by promoting stewardship of our natural resources and connecting all citizens to practical solutions to achieve a sustainable lifestyle. Our vision is that all Arlingtonians are collectively engaged in creating a sustainable community. We promote connecting to natural places, stewardship, and the value of individual action. Our work is local, community-based and makes a difference by empowering individuals with resources, training, and opportunities to collaborate leading to more sustainable lifestyle choices. Our work directly improves our air quality, mitigates the carbon footprint of Arlington families, reduces pollution into the Chesapeake Bay, improves wildlife habitat, beautifies Arlington's parks, and grows our environmental stewards of tomorrow.