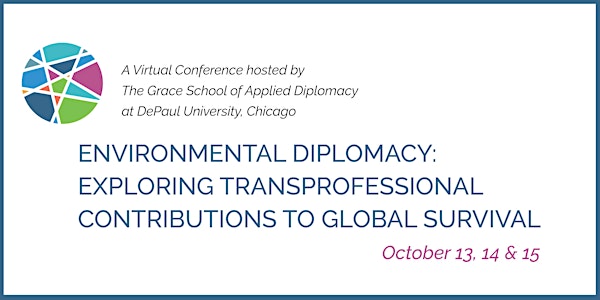 Environmental Diplomacy: Transprofessional Contributions to Global Survival
A conference that features the work of scholars and practitioners engaging the subject of Environmental Diplomacy
About this event
As we confront the extraordinary diplomatic challenge presented by the transnational global ecological crisis, a challenge that has served to accelerate the rise of nationalism, racial and economic inequality, and the fear of religious and ethnic difference, the need for a deeper level of collaboration among all practitioners of diplomacy has never been greater. This conference will explore the work and the strategies being proposed and employed by practitioners and scholars of diplomacy across multiple vocations and contexts to promote such cooperation.
In their collaborative volume Transprofessional Diplomacy (Brill, 2016), Costas M. Constantinou, Noé Cornago and Fiona McConnell crafted a term to describe the reality of how diplomacy is currently practiced. While nation-state diplomatic representatives continue the vital work of practicing diplomacy as it has been traditionally understood, diplomatic actors today also include businesspeople, scientists, artists, educators, religious leaders, social workers, community organizers and activists, among others.
The mission of the Grace School is to train future practitioners of diplomacy across all vocations – from those pursuing careers in the foreign service to those who want to build bridges as NGO leaders, private sector actors and in their own neighborhoods as community organizers and activists. Our goal is to create cohorts of students with a wide range of vocational trajectories who engage the study and practice of diplomacy together, and in so doing establish networks that they will take with them as they pursue or redirect their respective careers upon graduation. Examining the transprofessional diplomatic work which is currently taking place and which must now be amplified in the name of supporting environmental sustainability is the theme of our conference. To that end, each panel will thoroughly explore the transprofessional dimension of Environmental Diplomacy.