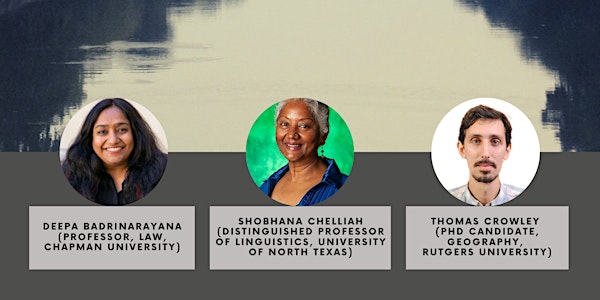 Environmental Crisis, Development, & Human Rights in South Asia
An online workshop for those interested in teaching about the climate crisis through language, human rights, and environmental law.
About this event
Environmental Crisis, Development, and Human Rights in South Asia: Past and Present - An online workshop for educators seeking new ways of addressing the climate crisis.
Supporting materials will be provided for all attendees. K-12 and Community College Educators: early registrants will be entered into a drawing for free book bundles containing materials recommended by our panelists! Register by July 1 to enter!
Featured speakers include:
Deepa Badrinarayana (Professor, Dale E. Fowler School of Law, Chapman University) - topics will address ongoing work with environmental law and human rights in South Asia
Shobhana Chelliah (Distinguished Professor of Linguistics and Associate Dean of Research and Advancement at the College of Information, University of North Texas) - topics may include Indigenous and endangered language documentation in South Asia and the mounting crisis climate change poses to minoritized language communities
Thomas Crowley (PhD Candidate in Geography, Rutgers University and author of Fractured Forest, Quartzite City: A History of Delhi and Its Ridge) - topics may include the environmental history of Delhi and its contemporary relevance, or the intersection of caste, development, and the disproportionate impacts of climate change on vulnerable communities.