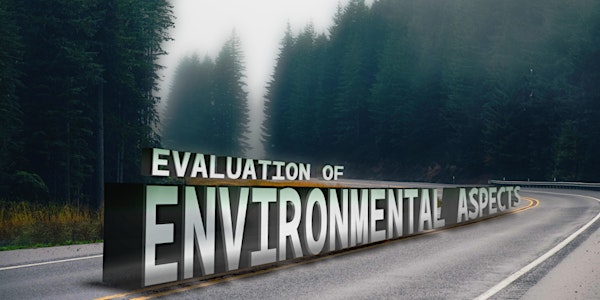 Environmental Aspect Evaluation with Life Cycle Perspective
Refund Policy
Contact the organizer to request a refund.
Description
Webinar Description

This is a two (2) hour live webinar. This webinar is designed for all types of industries that are currently certified or willing to get certified to ISO 14001:2015 Standard. The goal is to clarify the intent and the application of the environmental aspect evaluation while incorporating the life cycle perspective as required by ISO 14001:2015 Section 6.1.2.
A comprehensive environmental aspect evaluation will be completed for sampled departments of selected industries.
Our focus will be real life scenarios and examples. The completed exercices and group work documentation will be provided to the attendees.
Sample documents including an environmental aspect matrix will be offered.
Attend this webinar and learn how to properly train your team on completing an accurate, comprehensive and an effective environmental aspect evaluation.
This webinar is for both companies who are just starting the ISO 14001:2015 implementation and the ones who already have implemented it.
This course will be taught by an experienced third party lead auditor who is internationally certified by Exemplar Global with both environmental, health and safety (EHS) management systems and EHS regulatory compliance scopes, and who actively conducts these audits and system implementation activities nationwide and internationally.
Each participant will receive a GreenUp Academy webinar attendance certificate.
---
Who should attend?
Environmental Coordinators, Specialists, Managers
Corporate Environmental Staff
Any company who is willing to get certified to ISO 14001:2015 Standard, who is willing to maintain their certificate and/or to upgrade to ISO 14001:2015
Anybody who is willing to understand the environmental aspect evaluation requirements of ISO 14001:2015
---
GreenUp Academy Courses and Webinars:
---
Facilitator Credentials – Mel DeGregorio
GreenUp Academy & GreenUp Consultants Managing Owner
Chemical Engineer, M.S.
Internationally Accredited Third Party Lead Auditor for Environmental, Health and Safety (EHS) Regulatory Compliance, ISO 14001 and OHSAS 18001 Management Systems Audits; Certified by Exemplar Global
Conducts ISO Management Systems (ISO 9001, 14001, OHSAS 18001) and Electronic Waste (E-waste) Standards (R2, RIOS, e-Stewards) certification audits internationally on behalf of several registrars
Conducts EHS Regulatory Compliance Audits nationwide
Establishes and implements Quality and EHS Management Systems in different industries including E-waste Recyclers
16 years of experience in Quality, EHS, E-waste and in the Manufacturing World: Consultant, Regulator, Trainer/Facilitator & Corporate QEHS Roles
---
TERMS AND CONDITIONS
GreenUp will try its best to accomodate each and every one of its participants. In order to be fair to each course participant, GreenUp enforces the terms and conditions listed below:
The webinar fee is due upon registration.
Registrants who fail to attend their webinar are still liable for 100% of the webinar fee.
There will be no refund issued after the materials are distributed and or the webinar has been attended.
Each attendee is responsible to ensure that they are attending the correct webinar of their choice. GreenUp Academy is not responsible for scheduling, wrong time zone or picking the wrong webinar, etc. types of errors by participants.
If you notify GreenUp at least 3 days in advance regarding not attending the webinar, you will have the opportunity to attend another session whenever it becomes available. If the ticket was purchased by mistake and/or the potential paticipant won't be able to attend the webinar and GreenUp is notified the same day of the purchase, a refund will be issued. Please contact GreenUp Academy for a refund. You will get a response within 3 days and if your refund is approved, it will be processed through Eventbrite.
A certificate will be provided only for the registered attendee.
By purchasing your ticket, you agree to these terms and conditions.
---