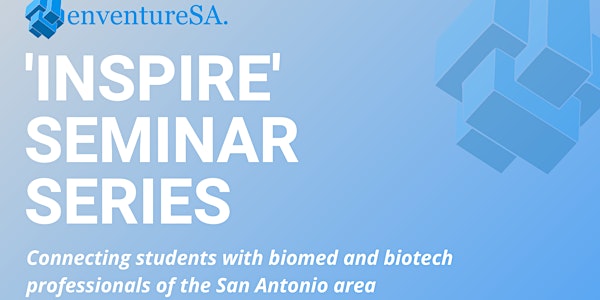 Enventure "Inspire" Seminar Series - Entrepreneurship
This event will explore the topics of careers in the biotech/biomedical fields with the help of Dr. Lauren Cornell and Dr. Bianca Cerqueira.
About this event
The "Inspire" Seminar Series was developed by Enventure to help students learn about the reality of working in the biotech and biomedical fields. The series consists of a number of events starring guest speakers coming from different areas in the biotech and biomedical industries.
Dr. Lauren Cornell is an experienced research scientist with a strong history of military collaborations. She obtained her Ph.D. in Translational Science from the UT Heath San Antonio/UTSA/UT Austin Joint Program. She obtained her M.S. degree in Biomedical Engineering from UT Health San Antonio/UTSA and her B.S. degree in Genetics from Texas A&M University. She has a wealth of experience, including being the Commander of Campaign 6 Mission 1 Mars Analog with NASA, a research scientist looking to improve clinical outcomes for the warfighter with the United States Air Force 59th Medical Wing, and a research fellow at the FDA where she analyzed clinical data to optimize drug dosing design in clinical trials. Currently, Dr. Cornell is the CEO and Co-Founder of NovoThelium, LLC, a start-up company investigating nipple areola complex replacements for patients who have undergone mastectomy. She has been awarded numerous grants and fellowships. This includes a grant from the National Science Foundation Innovation Corp Program for nipple regeneration. NovoThelium has won multiple business awards, including 1st place at BioFest Invest 2022, sponsored by BioMedSA, for the best business pitch, as well as NovoThelium winning the Spring 2017 Texas Venture Labs Investment Competition at the University of Texas, a McCombs School of Business Center of Excellence.
Dr. Bianca Cerqueira is a KBR Principal Technical Professional in Data Science and is responsible for providing scientific research design for clinical and preclinical studies, study management, grant writing, research regulatory compliance, quantitative medical imaging processing, and data analysis to the 711HPW/USAFSAM-FES Department of Aeromedical Imaging Research. She obtained her Ph.D. in Biomedical Engineering from the University of Texas Health Science Center at San Antonio/ University of Texas at San Antonio joint program. She obtained a Translation Science Certificate from the University of Texas Health Science Center at San Antonio. She obtained her B.S. in Neurobiology & Physiology from University of Maryland, College Park. She has a broad research interest, including white matter hyperintensities found in U-2 pilots, chronic hypobaric exposure, cognitive and neurologic effects of acute hypobaria combined with hypoxia or hyperoxia, physiological episodes at altitude, circadian misalignment, acute sleep deprivation, musculoskeletal injuries in military trainees, lung damage associated with burn pit and dust exposure, cardiovascular disease, unconventional brain injuries, U-2 pilot neuroimaging surveillance program, and COVID-19. She is currently the Director of Research at PhotonPharma and responsible for providing scientific research design to support Investigational New Drug applications of Innocell, an autologous inactivated whole cell therapeutic vaccine for cancer. She is also the Co-Founder and President of NovoThelium, where she has been involved in the basic science research and business development aspects of the company.
Participants attending this event will learn about the story of Dr. Lauren Cornell and Dr. Bianca Cerqueira and there experiences of being entrepreneurs and founding there own company. In addition, there will be a final Q&A where the audience will be able to ask direct questions to Dr. Cornell and Dr. Cerqueria.