You already know about Blockchain, AI and Big Data? Then it's time to learn about No-Code! Join our free online conference and find out more
About this Event
Discover what it takes to become a citizen developer and drive digital transformation in your company
Learn hands-on how to build applications, automate business processes and develop digital business models with No-Code
Network with entrepreneurs, citizen developers and leaders in the No-Code space
What is No-Code?
It is faster, cheaper, and more user-friendly than traditional development!
It allows anyone to build applications, automations, MVPs, websites and platforms without knowing how to Code
Application development with No-Code platforms is 8 to 10 times faster than building with traditional coding
Gartner predicts that 65% of app development will be done using Low-Code platforms by 2024
AGENDA
5:00 PM Panel Discussion
Entrepreneurship Meets No-Code
We will shine a light on Entrepreneurship and how No-Code startups are successful. Learn how you can build digital business models, run your own startup and accelerate your company using No-Code tools.
5:45 PM Showcase
Designing With No-Code
In this session we will showcase an impressive example of what's possible with Low-Code and design skills. Exploring the advantages and limitations of using No-Code when designing.
6:15 PM Expert Talk
The Future Of Citizen Development
We will examine how Citizen Developers and Citizen Data Scientists will impact enterprises and SMEs. Also exploring what role global standards will play in the Low-Code market and how they will impact the future of work.
7:00 PM Panel Discussion
Raising Money with No-Code
Discover how No-Code is viewed by Venture Capitalists and which approach is best to raise money using No-Code. Learn which common mistakes Entrepreneurs make when seeking funding and how to avoid them.
7:45 PM Virtual Expo & Networking
Learn No-Code Hands-On
Learn Hands On what you can do with No-Code, get special deals and Network with Entrepreneurs, No-Code Experts as well as Citizen Developers.
Partners and Sponsors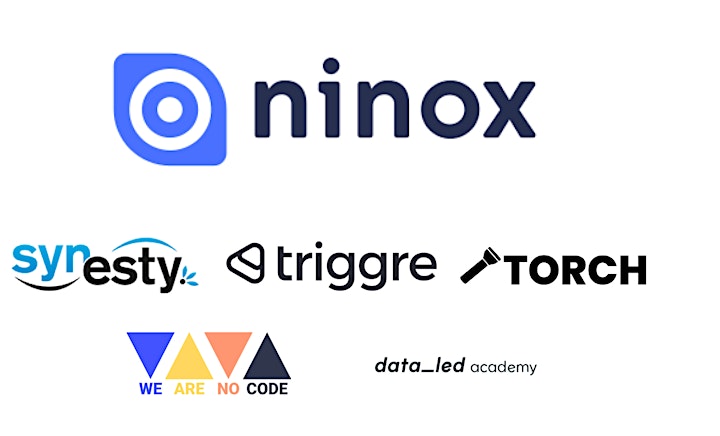 Who is it for?
Anyone interested in Low- & No-Code
Founders and Entrepreneurs
Business Professionals & Leaders
Citizen Developers
Stay up-to-date about No-Code
Communities and Supporters