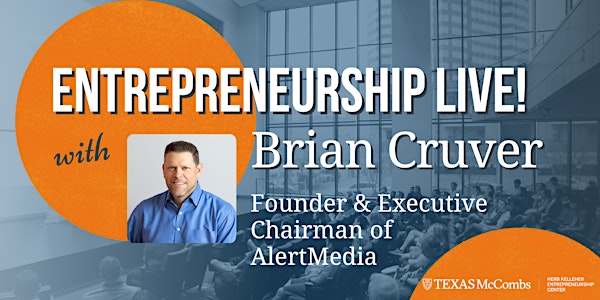 Entrepreneurship Live! with Brian Cruver
Experience live insights into how to launch an idea into a startup!
When and where
Location
Robert B. Rowling Hall, The University of Texas at Austin McCombs School of Business 300 West Martin Luther King Junior Boulevard Special Events Room 5.210 Austin, TX 78705
About this event
Hosted by the Herb Kelleher Entrepreneurship Center, Entrepreneurship Live! provides audience members, who may be in any stage of their entrepreneurial journey, with inspirational voices that can ignite confidence and provide guidance in pursuing entrepreneurial endeavors. These chats take the audience through the speaker's journey in entrepreneurship, it pitfalls and its rewards.
This fall the HKEC is joined by Brian Cruver, founder of AlertMedia and Xenex, to tackle topics on how founders can establish a healthy and safe company culture, create a positive impact through entrepreneurship, and provide effective leadership during times of uncertainty.
SCHEDULE
5:00PM- Fireside Chat with Brian Cruver
5:45PM - Audience Q&A
6:00 PM - Networking Reception

Brian Cruver | Founder & Executive Chairman of AlertMedia
Brian is an entrepreneur, investor, author, and is currently the Founder & Executive Chairman of AlertMedia, a company he started in 2013. AlertMedia is now the world's leading provider of emergency communication software, used by over 2,500 enterprise companies in 130+ countries to keep employees safe from threats to their health and safety.
Before AlertMedia, Brian co-founded Xenex, where he and his team developed a germ-killing robot, now used in over 700 hospitals around the world, preventing infections and saving thousands of lives each year. He is also an investor and adviser to dozens of early-stage startups through his investment firm, Marketdriver Ventures.
Brian's focus on starting companies with a positive impact stem, in part, from his experience working at Enron, where he was part of mass layoffs when the energy giant went bankrupt in 2001. He turned his Enron experience and the lessons learned into a best-selling book and later a movie. Brian is a graduate of the University of Southern California and received his MBA from the University of Texas.

Making Entrepreneurship Accessible to All Longhorns
Learn more about us here: uthkec.com