Description
Ever consider purchasing a franchise business? Well, it's not all burgers and fries. Here is your opportunity to ask a local franchisee about their start-up journey and what "success" means to them?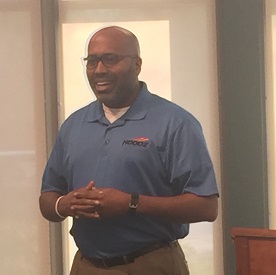 Join us to learn about owning a franchise from Bill Higgins. Bill is owner of Hoodz Commercial Kitchen Exhaust Cleaning. During this session of Entrepreneurship Indianapolis, he will be discussing his experience leaving his corporate job of approximately 2 years to become a business owner.
Entrepreneurship Indianapolis is a discussion driven series that identifies trending businesses ideas, new business fundamentals and pertinent business concepts in our new economy. This particular discussion is ideal for anyone considering franchise ownership or purchasing an existing business.
This unique, interactive series attempts to inspire entrepreneurship. Free sessions offer standalone educational discussions addressing business ownership issues from concept, to start-up, to scaling your business. Each month, featured guest speakers provide their first-hand entrepreneurial perspectives. Speakers range from local business owners sharing their entrepreneur and franchise start-up experiences, to local SBA advisers identifying funding options for first time business owners, to local development officers highlighting economic developments.
A practical guide to successful entrepreneurship and how to apply your skill sets and expertise as a business owner. Join us as we identify the fundamentals of business ownership, factor-in your work style and personality, and evaluate how your preferences apply to various types of businesses. Highlights include:
identifying the characteristics of successful business owners

accessing your personal values and work preferences

exploring the teachings of Shark Tank and The Profit

evaluating an owner's role in sales and your sales aptitude

discussing the "state" of entrepreneurship in Indiana and trending business ideas in the Midwest
This Series is presented by Mark A. Roger, a business expert with FranNet MidAmerica. Mark has worked with business start-ups in Indiana since 1993 and is a local business owner. This series of high-energy workshops is presented with the support of the Indiana Small Business Development Center.