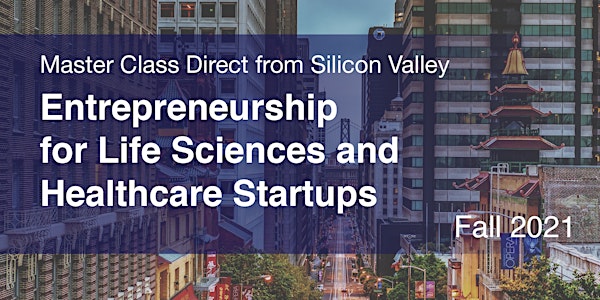 Entrepreneurship for Life Sciences/Healthcare Startups: from Silicon Valley
Join the Fall 2021 cohort of UCSF's acclaimed entrepreneurship course to explore creating life science and medical ventures.
About this event
This ten week course, which features 1.5 hour lectures plus optional small groups, is a window into the world of Silicon Valley entrepreneurship. The focus is on how to create new ventures that may impact human health at scale. Our guest lecturers from Silicon Valley are dedicated experts who live and breath life sciences and medicine daily.
KEY BENEFITS
You will gain the knowledge, insights and mindset to succeed in a startup.
Silicon Valley insiders – Founders/CEOs, serial entrepreneurs, investors,
lawyers and consultants -- zero in on ways they have guided startups to
success. Our guest lecturers are practitioners who will help you understand the
fundamental questions that a startup must address to create a viable business.
You will learn the Silicon Valley mindset and investor requirements to obtain
funding. Drawing on this knowledge, you will take away actionable ideas to
improve your chance for success.
KEY BENEFITS:
o Learn the basics of entrepreneurship in life sciences/healthcare
o Discover how business can make or break your startup idea
o Gain business knowledge and lexicon to balance a technical background
o Learn how to translate a scientific or medical idea for commercialization
o Access insider knowledge on how to build a startup and avoid mistakes
o Develop insights into how investors make decisions
o Interact real-time with experienced startup executives, mentors and investors
o Build a strong network of global peers to share ideas and experiences
The full course brochure is at https://innovation.ucsf.edu/global-online-entrepreneurship-class.