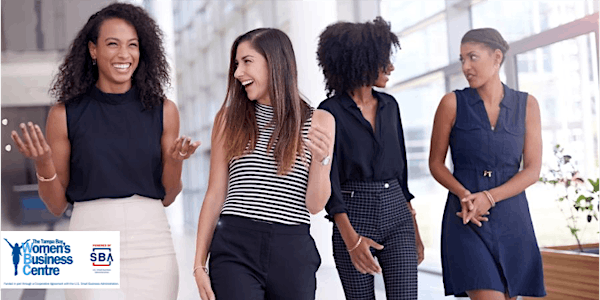 Entrepreneurship Empowerment for Women
Roundtable talk about entrepreneurship empowerment for women.
About this event
In celebration of Women's History Month, we are excited to share with you some inspirational topics that will help empower you through your journey of entrepreneurship. Our roundtable presenters have in-depth experience helping entrepreneurs launch and grow successful businesses. Join us for topics that will encourage, enlighten and uplift you through these challenging times. The topics will include:
Entrepreneurship Through Comedy - What Stand Up Comedy can teach you about the secrets of entrepreneurship -Dr. Kerry Szymanski, Director of the Tampa Bay Women's Business Centre
Emotional Intelligence for Women Entrepreneurs - Unlock Your Superpowers -Kathleen Culhane, Associate Director, Florida SBDC at Indian River State College, Entrepreneurship Development Institute
Achieve Work-Life Balance - How to create a balanced lifestyle so that you can grow your business and avoid burnout. -Binie Klein , Life & Leadership Coach
Keeping Your Eye on the Why! Maintaining focus when discouragement shows up -Althea Harris, Supervisory Outreach & Marketing Specialist, SBA
Financial Literacy for Women, Understanding the Numbers and Gaining the Knowledge -Debra Salas, Lead Lender Relations Specialist, Brand Manager, YEFL South Florida District Office
Reasonable accommodations for persons with disabilities will be made if requested at least two weeks in advance. Please contact the Tampa Bay Women's Business Centre for more information: tbwbc@thecentre.org.
Panel of Presenters:
Kathleen Culhane, Associate Director, Florida SBDC at Indian River State College, Entrepreneurship Development Institute
Victoria Guerrero, District Director, U.S. Small Business Administration, SBA – South Florida District
Althea Harris, Supervisory Outreach & Marketing Specialist, SBA
Binie Klein, Life & Leadership Coach
Debra Salas, Lead Lender Relations Specialist and Brand Manager, YEFL, South Florida District Office
Dr. Kerry Szymanski, Director of the Tampa Bay Women's Business Centre