Description
Are you looking to start your own business, but are unsure about how to maximize the odds of success? Join us for our Entrepreneurship & Business Ownership Symposium event where you will learn about starting your own company, financing options and proven business models that can mitigate your risk and increase your odds of success.
This "must-attend" event is for those interested in entrepreneurship and business ownership.
This event is designed for anyone who wants to:
Leave Corporate Life Behind
Be Your Own Boss
Enjoy Career Independence
Build Long-Term Equity
Launch a Recession-Resistant Business
Learn About Financing Options For Startups
You will have the opportunity to meet face-to-face with national franchise companies, financial and legal experts, and other valuable resources to help determine if business ownership is right for you.
The event will feature short presentations of different business models and risk reduction strategies. Attendees will hear from successful national franchise organizations in various industries in order to learn more about running a successful venture
This event is free for the first 50 registrants and $10 for all other participants, but space is limited. Don't hesitate - take control of your future, starting today. RSVP and receive your ticket via email.
_______________________
EVENT PREPERATION
Snacks and non-alchoholic refreshments will be served
Pens & notepads will be provided
Business casual attire recommended, but not required
_______________________
EVENT AGENDA
12:30 p.m. – 1:00 p.m. - Registration
1:00 p.m. – 1:20 p.m. - Business Ownership Overview Presentation
1:20 p.m. – 2:20 p.m. - Franchisor Presentations
2:20 p.m. – 2:40 p.m. - FranNet Presentation
2:40 p.m. – 3:40 p.m. - Franchisee Panel
3:40 p.m. - 4:30 p.m. - Networking
_______________________
LOCATION INFORMATION
Montclair Art Museum - 3 S Mountain Ave, Montclair, NJ 07042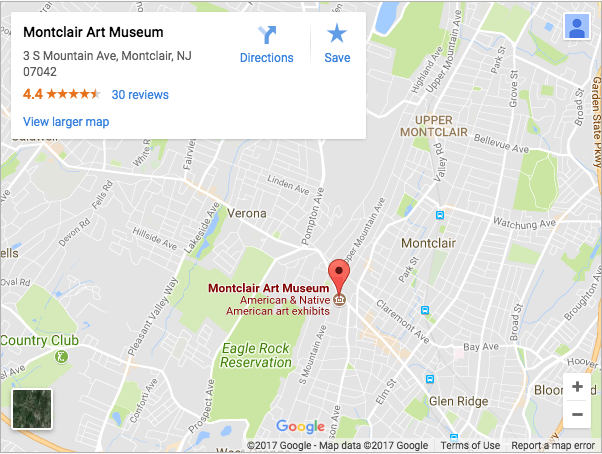 Travel Instructions -
The Museum is located at 3 South Mountain Avenue in Montclair, NJ, at the corner of Bloomfield Avenue and South Mountain Avenue.

By Car
Free visitor parking is available in the Museum's ample parking lot.
By Train from Manhattan
From 34th Street Penn Station, take New Jersey Transit's Midtown Direct train on the Montclair-Boonton line to Bay Street in Montclair (Please note that the station name is "Bay Street," not "Montclair").
When you arrive at Bay Street, the platforms will be connected by a crossover bridge with elevators. Take the elevator or stairs up to use crossover platform and then exit the station. Walk one block south on Pine Street, then take a right onto Bloomfield Ave. The Museum is located approximately one mile from the Bay Street Station at Bloomfield and South Mountain Avenues. You can walk or take NJ Transit bus #11 or #29 up Bloomfield Avenue (NJ Transit Schedule). If you take the bus from the station, be prepared with exact change.
By Bus from Manhattan
From Port Authority Bus Terminal, take DeCamp Bus #33 to the corner of South Mountain and Bloomfield Avenues, Montclair. The MAM stop is between the "MONTCLAIR: Gates & Bloomfield" and "VERONA: Lakeside Ave" stops listed on DeCamp's schedule.
Check the DeCamp Bus Schedule or call 973-783-7500 for more information.
By Bus from Newark
From Newark Penn Station, take New Jersey Transit #11 to the corner of South Mountain and Bloomfield Avenues, Montclair. You can also take the NJ Transit bus #29 along Bloomfield Avenue to the museum. Several other NJ Transit buses serve the Montclair area.
Check the NJT Bus Schedule or call 973-275-5555 for more information.