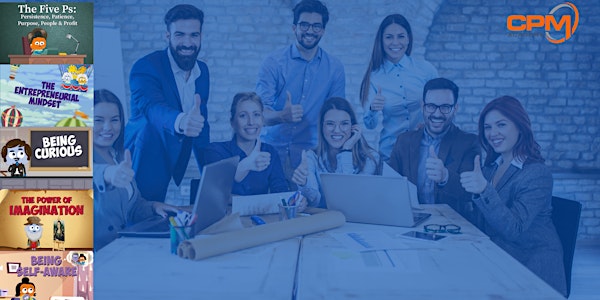 Entrepreneurship - Bundle of 5 Courses
Online Course. Study at your own pace. Bundle of 5 Courses.
About this event
405 days 8 hours

Mobile eTicket
CPM Academy and TalentLMS bring 100% Online Courses for your professional development. Receive a Certificate of Completion from CPM Academy after each course.
This Bundle includes the following 5 Courses:
The Five Ps: Persistence, Patience, Purpose, People & Profits
To succeed as an entrepreneur, you need to stand out above the rest. A large part of that is down to your approach. And to master a winning approach, at the heart of your mindset you need "The Five Ps": Persistence, Patience, Purpose, People, and Profits.
By the end of this course, you'll be able to:
Define and apply the meaning of the Five Ps in entrepreneurship
Identify the importance of the Five Ps in entrepreneurship
Use techniques to improve your Five-Ps skills
The Entrepreneurial Mindset
An entrepreneurial mindset is a set of skills that lets people identify and maximize opportunities, overcoming and learning from setbacks, in order to succeed. And while it's often thought that "people are just born with it," getting into this way of thinking is actually something you can train your brain to do.
By the end of this course, you'll be able to:
Identify the traits of an entrepreneurial mindset
Define the importance of having the right mindset
Use techniques to improve and expand your entrepreneurial mindset
Being Curious
Curiosity is the thirst for knowledge. The desire to learn and understand new things, and to ask questions to figure out the "how" and, crucially, the "why." It helps you expand your mind, challenge ideas, and find fresh thinking. It allows you to problem-solve more effectively and discover what might be possible, instead of just what's feasible. And it's an essential tool in your entrepreneur's tool kit.
By the end of this course, you'll be able to:
Define the importance of being curious in entrepreneurship
Use questioning to expand understanding and creativity
Practice techniques to improve your curiosity
The Power of Imagination
In business, these imaginative skills are crucial for success. If everyone approached problem-solving like children do, the world would be a much more innovative place.
By the end of this course, you'll be able to:
Recognize the importance of imagination in business
Identify how imagination aids problem-solving in any business
Use techniques to develop your imagination skills
Being Self-Aware
Being self-aware means having the ability to see yourself clearly and objectively through reflection and usually some soul-searching. It might seem like a pretty abstract concept, but it helps keep things in perspective. Being able to reflect on yourself and your interactions with others will not only improve your own mental well-being, but also your vision and success in business.
By the end of this course, you'll be able to:
Identify how to exercise self-awareness
Identify the importance of self-awareness in business
Use techniques to master your own self-awareness