Description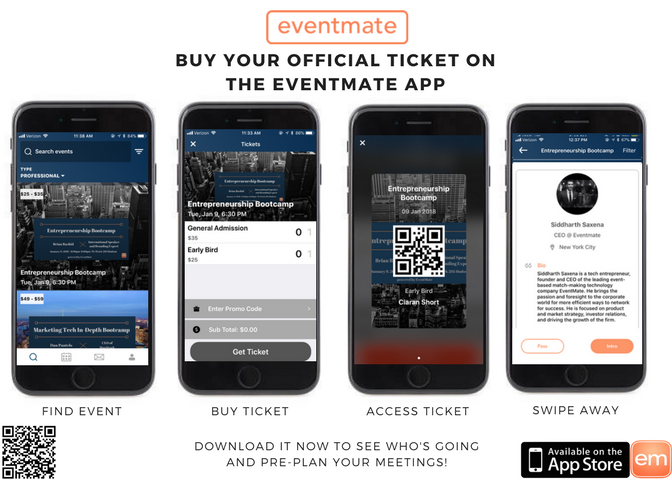 TICKETS MUST BE PURCHASED THROUGH THE OFFICIAL EVENTMATE APP
Join us for the Entrepreneurship Bootcamp Series, which is a first-of-its-kind session working with experts. We bring in top industry experts to talk about various parts of starting a startup with the goal to help founders over any hurdles that they may have.
On January 9th, we are bringing in Brian Rashid, who is one of the world's top branding and messaging experts, he built his career through storytelling and communication. Brian is the CEO and creator of "A Life in Shorts," a modern day branding, digital media, and communications company that tells your story like it's never been told before. He services clients that range from the biggest brands in the world to the new solo entrepreneur trying to get started.
Brian will speak about branding, brand strategy, and how to monetize your message in front of audiences around the world. He is also a weekly contributor at Forbes Magazine. Fluent in Spanish, Brian lives between New York City and Colombia, but represents clients globally. Prior to launching his company 5 years ago, Brian was a speechwriter in Mayor Mike Bloomberg's Administration. He also holds a JD from the City University of New York (CUNY) School of Law.
The Entrepreneurship Bootcamp Series is for you if:
- You are looking to understand the art of converting ideas to reality
- You are motivated to learn more about entrepreneurship opportunities and experiences
- You are ready to step up your game in the world of entrepreneurship with a great community of self-starters
- You are interested in networking efficiently with our newly launched EventMate app
Whether your goal is to:
- Build a strong foundation for your startup
- Understand ways to became an excellent leader and manage your ongoing opportunities
- Expand your networking platform in different sectors and industries
Then this workshop is the perfect fit for you!
Buy your official ticket through the EventMate App!
Android users contact us for your ticket!
No refunds
Dress Code: Casual