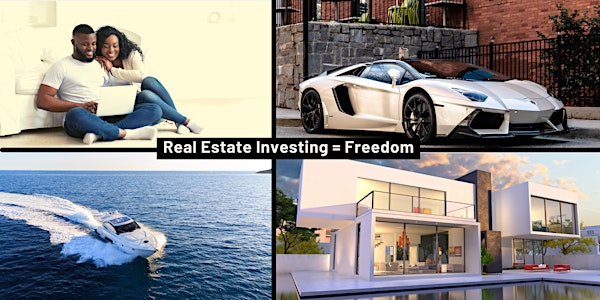 Multiple dates
Entrepreneurs Sales Professionals Build a Business in Real Estate - Atlanta
"Our mission is to empower one million entrepreneurs with the knowledge, tools, systems and support needed to become financially free."
By Parrish Property Investors, LLC
Date and time
April 12, 2022 · 8pm - June 10 · 2pm EDT
Location
Online Event. Registration information will be sent in confirmation email. Online Event Atlanta, GA 30340
About this event
Attention all Entrepreneurs, Sales Professionals and Marketers!!!
🔹️️ If Hustle and Heart sets you apart, you're in the right place...
🔹️️ If Real Estate is a topic that piques your interest, you're in the right place...
🔹️️ If Direct Sales, Client services, and Social Media are your way of life, you're in the right place...
🔹️️ If you've had enough of your 9-5, getting paid every weeks barely making ends meet, or not having the freedom to set your own schedule, you're in the right place...
🔹️️ If your dream is to create a side hustle or build a full-fledged business that utilizes all of those skills and talents, and you are passionate about helping people solve problems, then you are definietly in the right place!
If there is anything that we have learned in recent times is that having multiple income streams is not only suggested, but HIGHLY recommended. According to recent reports, 1 in 3 Aericans now have a side hustle and or are looking for one. We recognize the powerful combination of entrepreneurship and business ownership as tools to increase immediate income, while building secure, long-term wealth. What better way to step into a career as an entrepreneur than to do it in an industry that is booming right now: Real Estate.
Folks who decide to get into real estate investing do so for a variety of reasons...And many times, it's not all for the personal financial gain that can come with it.
So, if you are looking for that side hustle to make additional income or you are wanting to get into business for yourself and be independent, then join us for our event to get more information about this amazing opportunity to do just that. Helpng others find their way to invest in real estate can be extremely rewarding!
But...what's in it for you?
🔹️️ An earnings plan that is generous and simple, including direct sales commissions, downline sales commissions and overrides.
🔹️️️Say goodbye to your bi-weekly pay structure
🔹️️️Work when you want and where you want
🔹️️️Get recognized for your efforts and performance
🔹️️️...and the bonus: Join our community of entrepreneurs that have banded together to help each other grow and succeed!
Come meet me and many of my colleagues and find out more about us and what we have to offer!
🔹️️️🔹️️️🔹️️️🔹️️️🔹️️️🔹️️️🔹️️️🔹️️️🔹️️️🔹️️️🔹️️️🔹️️️🔹️️️🔹️️️🔹️️️🔹️️️🔹️️️🔹️️️🔹️️️🔹️️️🔹️️️🔹️️️🔹️️️🔹️️️🔹️️️🔹️️️🔹️️️🔹️️️🔹️️️
"There are no downsides to a side hustle. There are only benefits to building more than one source of income." - Forbes
🔹️️️🔹️️️🔹️️️🔹️️️🔹️️️🔹️️️🔹️️️🔹️️️🔹️️️🔹️️️🔹️️️🔹️️️🔹️️️🔹️️️🔹️️️🔹️️️🔹️️️🔹️️️🔹️️️🔹️️️🔹️️️🔹️️️🔹️️️🔹️️️🔹️️️🔹️️️🔹️️️🔹️️️
This is a private event for registered guests only.  All attendees must be registered.
RSVP at your earliest convenience to reserve your spot. We look forward to meeting you!
After you register, you will receive a confirmation email. We will also contact you via phone and/or text within 24 hours of the event to confirm and verify attendance.
TALK TO YOU SOON!
🔹️️️This is NOT an event for anyone looking to become a licensed professional or to receive a certificate for accomplishment.🔹️️️
About the organizer
Parrish Property Investors LLC has teamed up with your local community of investors to help folks like yourself get the necessary education to learn and apply many strategies required to invest in real estate transactions.