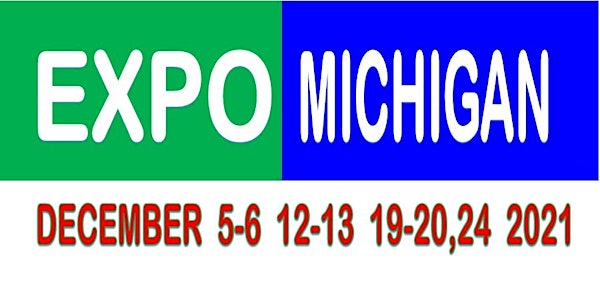 Entrepreneurs Expo - 100 exhibitors, weekends before Christmas 2021
Entrepreneurs Exhibitors Vendors Artists Crafters Local Businesses, Services EXPOMichigan.com EXPOMichigan@gmail.com
When and where
Location
Local Business EXPO Telegraph Southfield, MI 48076
Refund Policy
Contact the organizer to request a refund.
Eventbrite's fee is nonrefundable.
About this event
100 exhibitors spaces, inside 30,000 foot store
artists, crafters, designers, ENTREPRENEURS, exhibitiors, gifts, jewelry
local businesses, services, NEW & home based businesses
Safe family friendly inside large store in a very busy shopping area. (Southfield or Novi)
2 for 1 admission coupon, EVERYONE, please make copies, post on your website, social media. Email to everyone, ask to make copies. This will attract thousands of shoppers.
$5 admission = $5 DISCOUNT, redeem paid $5 admission ticket at participating exhibitors for $5 DISCOUNT on $30 retail purchase, limit 1 coupon or discount per transaction
1 space 10 x 10 = $149 SPECIAL $99 before September 2021
1 space 4 weeks $399 SPECIAL $199 before September 2021
---------------------------------
Sponsors Wanted
Promote your local business or service at EXPO MICHIGAN Marketplace 2021.
2 spaces all events in 2021 and 100 commercials on local cable stations with your company name, logo, as sponsor $500
4 spaces all events in 2021 and 300 commercials on several local cable networks with your company name, logo, as sponsor $1,000
These events began and continue to provide opportunities for everyone and support people with disabilities. All disability agencies attend free, sponsored by paying vendors, exhibitors and sponsors. Thank You
--------------------------------------
EXPO MICHIGAN.com
2021
November 25-27
December 4-5 11-12 17-18,24
Saturdays 10-7 Sundays 12-5
"Black Friday" 10-7
1) No Refunds for any reason
2) Events subject to change without notice
3) All paid exhibitors agree to these rules
4) Disability agencies insured attend free to promote events, contact news, post on social media
5) Everyone brings own tables, chairs, nice table cloths. Rentals Available in advance
6) Reserve on EVENTBRITE, print & bring ticket. Paper receipt.
7) Vendors MUST BRING EVENTBRITE ticket / receipt on paper before set up
8) Face masks required
9) Licensed, insured food vendors
10) Set up Wednesday before Thanksgiving 3-7 pm, Saturdays 9:30 am
11) ALL exhibitors unload and park at back door only
12) 2 for 1 Admission coupons, make copies, email, post online
13) Direct Sales first person to reserve all 4 weekends
14) Exhibitors required to collect sales tax or claim income on your personal taxes
15) No sale of alcohol or drug related items
16) No guns, knives, weapons, explosives, fireworks allowed at events or on property.
17) Abusive behavior by vendors will be termination and asked to leave, No Refund
18) Oakland County Business Association Inc Michigan, & property owner not liable for failure to fulfill this contract due to reasons of location event held before or during event if destroyed by fire, other calamity, acts of nature, weather, public enemy, strike, pandemic, ordinances or other legal authority beyond control.
19) Including negligence, shall OCBA Inc, and property owner, associates, families be not liable direct, indirect, special, consequential damages resulting from attending these events
20) If any section, sentence, clause, phrase or portion of this contract is for any reason found invalid or unconstitutional by any court of in Oakland County, MI, such portion shall not affect the validity of remaining contract
21) This is a legally binding contract to exhibit EXPO MICHIGAN MARKETPLACE 2021 for dates listed. Legal disputes, exhibitor liable for legal expenses incurred by OCBA Inc Michigan, and property owner will be handled in court in Oakland County, MI
22) 2021 events inside a big retail store 30,000 square feet, 10 x 10 spaces, 10 feet apart
location TBA August 2021 (Southfield-Novi)
23) $5 DISCOUNT on $30 retail, all exhibitors encouraged to offer to shoppers. Redeem their paid $5 Admission Ticket to participating vendors for $5 DISCOUNT on $30 retail purchase.