Description
Networking from 8:00am-8:30am
Event is from 8:30am - 10:00am
Dale Majors, was able to scale Bikewagon, an ecommerce retailer of bike parts, from a start up in his garage to a top supplier of bike parts generating over 10 Million dollars annually. Retired at the age of 33, Dale shares the tips and tricks he used to scale his company, and see opportunities that his competitors didn't.
In his high-energy workshop you'll learn:
The value of starting small, and how to crush it (or make the right choices) when faced with difficult situations.
Dale's Motivation Formula that will propel your success in the next 12 months.
A proven formula for project planning that leverages the perspectives of others where you're weak.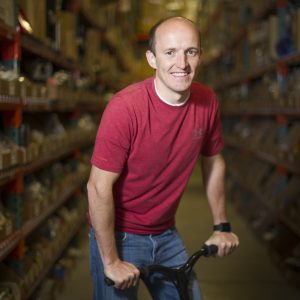 Dale grew up in Salt Lake City as the 4th of 9 children. He spent his childhood collecting things, building skate ramps, rollerblading, wrestling and riding bikes.
In high school, shortly after building a bike he stumbled into a store that sold all sorts of goods for ridiculously low prices. This was before eBay was a big thing, and Dale started to buy and sell those items with the proceeds of his job as a janitor. Buying these products and eventually specializing in bike parts is what led Dale and his Father George to found Bikewagon, which later grew to generate over 10 Million dollars in annual revenue.
As a high school senior trip he and two friends took a bus to Santa Barbara and rode their bikes to San Diego. This gave way to over 10 months of bike touring logging over 9,000 miles. 3,000 of which have been with his wife and children.
Dale also dabbles in competitive Table Tennis, RollerBlading, Racquetball, and is learning to learn to play the piano.
Register now for this ecxiting event!