Description
Our first Entrepreneur Round Robin event in January 2017 was such a success we had to provide local business owners with the opportunity to attend another one!
On Saturday, November 4 from 2 pm to 4 pm, we are hosting our Second Entrepreneur Round-Robin Event - except this time we are bringing even more value!
We listened to what the registrants and experts had to say about January's event and have adjusted the format to increase the one-on-one sessions, offer more choices, and give time between sessions to allow everyone to digest the amazing nuggets of information shared by our experts.
Registrants of this professional series will spend 20 minutes with four experts of your choice (first-come, first-serve). You will walk away with practical and actionable information that can be applied to your business immediately.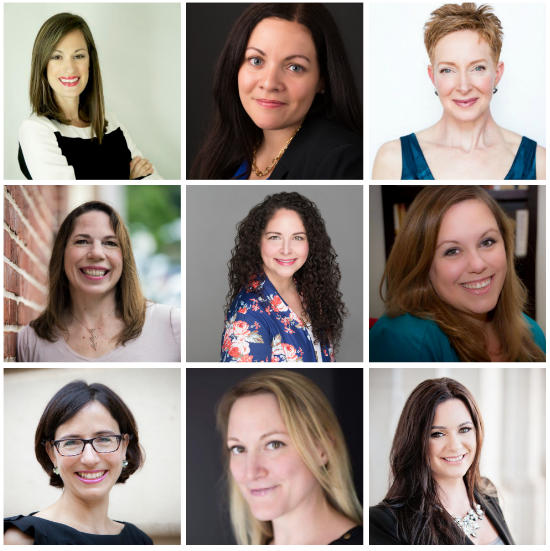 Select Your Four One-On-One Sessions From the Options Below:
Yes, you need to choose who to sit down with in advance and you are limited to only four. This is a first-come, first-serve opportunity so please register as soon as possible to ensure you meet with the first four you choose.
Public Relations Strategy: Broadcast publicist and veteran television producer Ashley Bernardi, Founder of Nardi Media LLC, will sit with each participant to review their brand, company, and cause, and strategize on potential news pegs, story ideas, and pitch angles to help leverage media placements in television, radio, podcast, and print. She will also advise participants on which media outlets and mediums will be the best fit for the company and participant. Participants will walk away with a publicity roadmap to help elevate their brand, company, and/or cause through powerful media placements and press outreach.
Business Branding: Nicole Dash, Founder of Play, Work or Dash, will sit with each participant to review their website, social media sites, blog, newsletters, and general online presence. She will provide real-time feedback and suggestions for building and growing an online community while connecting with your target audience in an authentic way. Regardless of your stage in business, you will walk away with actionable ideas for creating a cohesive digital marketing strategy.

Stop Dreading the Sale and Start Celebrating It: Selling isn't a natural skill for most people, especially for women. But when the success of your business depends on making the sale, a small investment in yourself and your marketing strategy can go a long way. Kim Fredrich, The Stylish Marketer (who's a really nice, non-threatening person with nearly 20 years of sales and marketing experience), will teach you how to sell confidently and successfully without compromising your integrity or your sales goals. Is your sales challenge getting the gumption to even have a sales conversation? Maybe you're making great connections and putting out lots of proposals, but still not winning clients. Or perhaps you just hate selling? Kim will help you embrace a sales mindset, work through the compelling questions you need for your conversations with purpose, and help you identify the number of sales conversations you need to have to reach your revenue targets.
Business Blueprint Session: With less than 100 days remaining in 2017 Rita Goodroe, Founder of Women's Business Garden, LLC, will meet with each participant to help them gain clarity on what they most want for their business in 2018 and guide them through creating a game plan to achieve it. She will review and offer feedback on revenue stream planning and sales and marketing strategies and provide participants with a structure that allows them to gain an in-depth understanding of their customers or clients so that they can create strong offerings and focus their marketing, money and energy in ways that set them up for success.
Develop a Personalized Business Process: Lisa Shaughnessy, Founder and Principal at inkerB Consulting, will sit with each participant to help them identify their most common business activities. Using her easy to follow 7-Step Method, she will guide participants through creating process steps for one business activity. This will include review and consultation to make the activity more efficient as well as identifying what supporting documents (email templates, forms, checklists, FAQs, etc) to create, and potential automation. Participants will walk away with the tools and strategy needed to create and streamline their business activities so they can spend more time working on their business and less time in the weeds.
Business Finance Strategy: Bess Terril, Founder of Be Well Bookkeeping, will meet with each participant to assess their current financial situation, whether they are a new entrepreneur or have an established business. She will review basic bookkeeping best practices, software options, and provide real-time feedback on how participants can leverage their business finances to grow. Participants will leave with essential knowledge about creating a powerful business finance strategy.

Registration Information
Shortly after registering we will send you a Google form asking for your expert choices in order of who you would like to see. We will also ask for pertinent information regarding your business. This information will be provided to our experts so they can prepare for your session. Failure to submit the form by the date requested will result in less personalized sessions with your experts.
We look forward to seeing you on Saturday, November 4!