Description
With over 15 years of experience in business coaching, community outreach, and social media insight, Chisa Pennix-Brown has transformed savoir faire and a long-time vision of helping her peers, into Lady Bizness, an organization committed to fostering healthy relationships, business opportunities, and providing events for Entrepreneurs in North Carolina's Piedmont Triad community.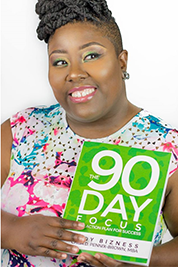 Her most recent accomplishment is becoming the author of The 90 Day Focus: Your Action Plan for Success, a book that helps to transform your mindset towards prioritization and goal setting to help you complete your passion project.
She can always be found Giving it to the People!