What does entrepreneurship really mean in the wake of the pandemic?
About this event
'I'm going to invest.' A phrase popular on 'Dragon's Den', one of today's most prominent cultural representations of entrepreneurs. Join us on Monday 30th May to demystify entrepreneurship and understand how to navigate risk and obtain your business goals.
Business owners regularly make decisions that involve risk. But an entrepreneur will actively negotiate with risk and achieve financial success as a result. Entrepreneurship therefore offers a vital means for small businesses to adapt in an ever-changing world of business.
This event will discuss entrepreneurship from three perspectives:
Bob Keiller CBE will impart entrepreneurial methods, tools and techniques that transform business
Emily McGowan will share personal experiences of establishing a thriving business despite the pandemic
Chris Moule will highlight support available to unlock your potential as an aspiring entrepreneur
Tune in for this hour-long CMI Scotland Board event where you will learn from three inspirational individuals and pick up effective practical insights in the process.
Our Speakers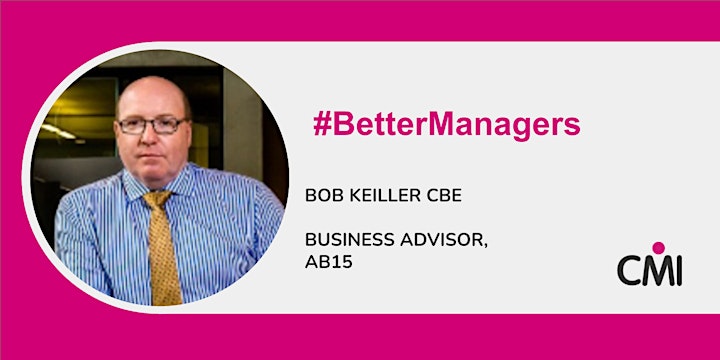 Bob Keiller CBE
Business Advisor, AB15
Bob Keiller is an entrepreneur with a passion for inspiring others. He helps organisations to grow and does not get paid.
He has Chaired several organisations including ASCO Group, Aberdeen & Grampian Chamber of Commerce, Scottish Enterprise, Entrepreneurial Scotland, The Offshore Contractors Association and Oil and Gas UK.
He was CEO of PSN, Wood Group PSN and Wood Group.
Bob is former Chairman of the Entrepreneurial Scotland and a member of their Hall of Fame. Entrepreneur of the Year in 2006 and 2008, Scottish Businessman of the Year in 2007 and Scottish Male Business Leader of the Year in 2011.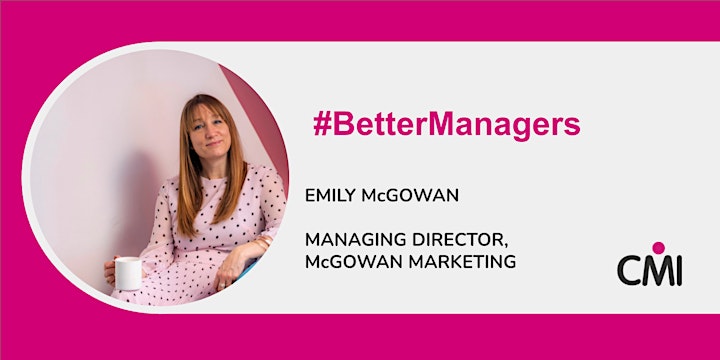 Emily McGowan
Managing Director, McGowan Marketing
Having worked in public, private and third sector organisations in marketing and business development roles since graduating, Emily finally made the move to becoming a self-employed entrepreneur in 2017, when she set up McGowan Marketing, now one of the biggest marketing agencies in the south of Scotland. Like any true entrepreneur, Emily does not focus only on running one business, but looks for opportunities where and when she can, with membership organisations, artisan markets and commercial property letting included in her portfolio (and almost anything else that she can align with her aim of prosperity for all in the Scottish Borders)Emi. Also, like other entrepreneurs, Emily has experienced success and less than successful results with her business (ad)ventures, giving her a wealth of knowledge and well-rounded entrepreneurial experience.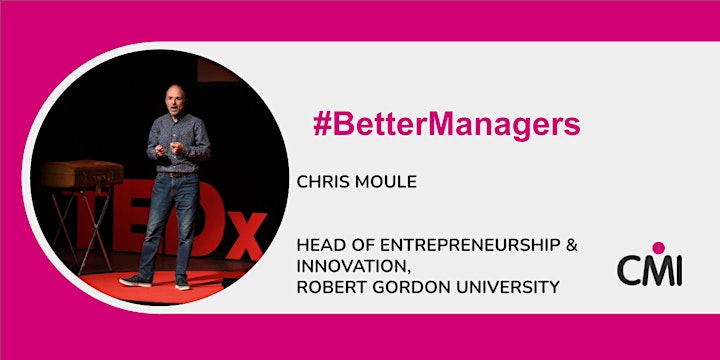 Chris Moule
Head of Entrepreneurship and Innovation
Robert Gordon University, Aberdeen
Chris Moule is the Head of Entrepreneurship and Innovation at Robert Gordon University (RGU) and recent TEDx speaker. He joined RGU in 2010 as a Business Development Manager focusing on developing commercial relationships and progressed to Head of Commercial Operations in 2017. In his current role he leads RGU's award winning Entrepreneurship & Innovation Group (EIG), who work to stimulate and foster entrepreneurship and innovation across communities of students, staff and graduates, as well as the wider regional eco-system.
He actively works with partners, schools, colleges, third sector organisations, corporates and donors to support innovative thinking and actively promotes the Scottish innovation eco-system.
He was previously Enterprise Manager at the University of Strathclyde, in Glasgow, before becoming the Commercial Director of a digital media company in Forres. He has a wealth of entrepreneurial experience having started three of his own businesses - Stir Ltd, One Stadium Ltd, a web design company and a training and development consultancy called Green Envelope.
He has spoken at a number of conferences on the subject of entrepreneurship and delivered workshops for corporate clients, local authorities and the NHS to support innovation and design thinking. In Summer 2021 he spoke at the inaugural TEDx Aberdeen on the subject of 'Recombinant Innovation'.
Our Host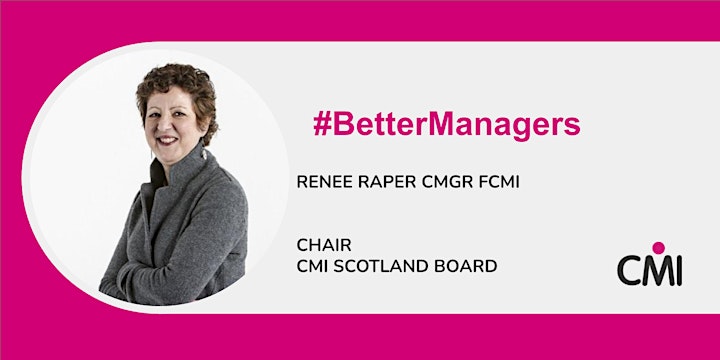 Renee Raper CMgr FCMI
Chair
CMI Scotland Board
Renee is an organisational development professional with extensive knowledge of learning and development with over 30 years' experience. She works at strategic and operational levels with business and in academia, nationally and internationally, providing learning consultancy, solutions and programmes in leadership and management.
She has worked in Europe, Kazakhstan and the Middle East and is a global e-tutor for the CMI, ILM and Scottish HE & FE, and currently has her own consultancy, Quo Solvis Ltd. She is a qualified executive and career coach.
She enjoys fitness, international travel, reading and baking and is enthusiastic for CPD and a glass of rioja!
In the meantime...
If you're a member of CMI, or subscribe to our content, you can find thousands of exclusive, practical development resources in ManagementDirect. Log in here and search for a topic to get started!
Not yet subscribed?
From free newsletters packed with the latest trends, insights and tips for managers and leaders, to the full suite of invaluable tools and benefits that come with being a CMI member, we've got something for everyone. Visit our website to find out more.