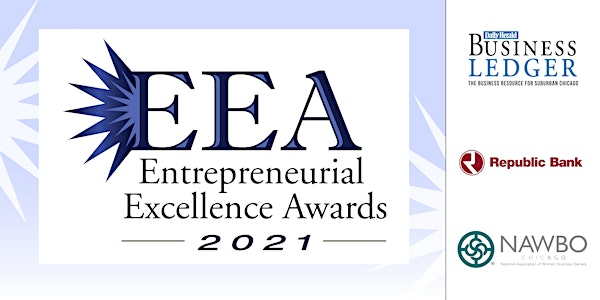 Entrepreneurial Excellence Awards Virtual Recognition Webcast
Let's have a watch party!
About this event
Join us to recognize during an evening virtual recognition webcast.
Daily Herald Business Ledger's Entrepreneurial Excellence Awards recognition will honor individuals and businesses for demonstrating the best traits of entrepreneurship, including the willingness to take risk, drive, perseverance and business creativity.
Event is free. Registration closes Sept. 23 at noon.
2021 Class of Entrepreneurial Excellence Awards Honorees:
Early Stage: Larry Blackburn of Datatelligent
Growth: Karen Coley of SBC Waste Solutions
Innovation: Sanjeev Arora; of Kuvrr; Dekovia Livingston of Livingston Taxes; John Orlando of Epiq Solutions; Bill Ulivieri of Cenacle Capital Management
Lifetime Achievement: Karon Gibson RN of American TV Productions; Chip Miceli of Pulse Technology; Roch Tranel of The Tranel Financial Group; Howard Wallach of A-Z Entertainment, Ltd.
Outstanding Service to Entrepreneurs: Rebecca Hoffman of Good Egg Concepts; Ron and Sue Rescigno of Rescigno's
Regional Spirit: David Gray of GreenSeed
Young Entrepreneurs: Dr. Michael Hartlett of Integral Medical and Rehabilitation; Vince Miceli Pulse Technology; Wyatt Nelson of Wyatt's Dog Company; Keyur Patel of Red Roof Plus

Republic Bank of Chicago is a local, family-owned commercial bank with over $2 billion in assets. Dedicated to serving their communities since 1964, Republic Bank has concentrated on what matters most to them; their customers. It is their customers' heritage of innovation, hard work, and entrepreneurship that drives and inspires Republic Bank. Over the past 55 years, they have expanded their financial services, reinvesting in their communities, and have grown to 19 locations across Chicagoland to better serve their clients. Visit republicebank.com for more information.

Did You Know . . .
NAWBO is the voice of 12 million women business owners nationally.
NAWBO Chicago is the largest of NAWBO's more than 60 chapters in the U.S.
Formed in 1978, NAWBO Chicago provides women business owners with leadership, education and networking opportunities amid a community of fellow women business owners. It also serves as a voice for its members on economic, social and public policy issues.
Member companies vary in size from one employee to several hundred with 17% of our members having 10 or more employees.
The Chapter's membership represents businesses in all major industrial, service and retail sectors.

Entrepreneurial Excellence Awards is presented by the Daily Herald Business Ledger. You can learn more about this and other recognition programs (C-Suite of the Year Awards, Diversity in Business Awards, Annual Awards for Business Excellence, Best Places to Work in Illinois, Influential Women in Business)at dhbusinessledger.com.
For Sponsorship and advertising information, please contact:
Andy Zielonka at 630-955-3592 | azielonka@dailyherald.com
Lori Urbaniec at 847-427-4626 | lurbaniec@daliyherald.com