Description
Entrepreneur Success Hacks will be equipping all genres of entrepreneurs with the tools to take their brand to the next level with knowledge & tactics gained through an interactive webinar series.
Episode 3 of Entrepreneur Success Hacks will feature Claire Sulmers. Claire is the Founder and EIC of Fashion Bomb Daily at fashionbombdaily.com which is the #1 multicultural fashion magazine online.
Join Claire at 8pm CST, 9pm EST, 6pm PST on April 24th speaking about her entrepreneurship journey, tactics on how she's arrived to where she is today, how to's on becoming an Author, building a platform and becoming a digital influence.
We are giving away $500.00 via Cash App during the webinar. Tell a friend to tell a friend to join Entrepreneur Success Hacks!
Once you have purchased your ticket you will receive email instructions on your entrance into The Entrepreneur Success Hacks webinar.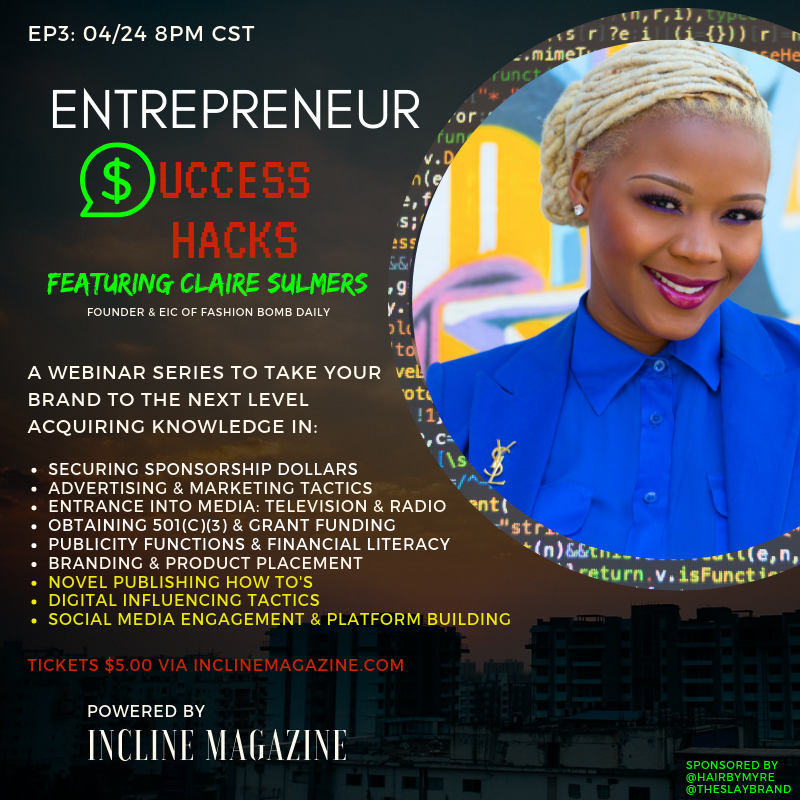 This is certainly an exclusive webinar you don't want to miss!
Stay social with the CEO on Instagram: @clairesulmers & @fashionbombdaily
Entrepreneur Success Hacs is sponsored Hair By Myre & The Slay Brand
Get your reads up at InclineMagazine.com
Organizer of ENTREPRENEUR SUCCESS HACKS FEATURING CLAIRE SULMERS