Description
Event Schedule:
This a two-session class taking place on consecutive Tuesday and Thursday evenings from 6:30 - 9:00pm each night. Choose your dates from the drop down menu!
Session 1: Tuesday, 7/17/2018 6:30 PM - 9:00 PM
Session 2: Thursday, 7/19/2018 6:30 PM - 9:00 PM
*or*
Session 1: Tuesday, 8/14/2018 6:30 PM - 9:00 PM
Session 2: Thursday, 8/16/2018 6:30 PM - 9:00 PM
*or*
Session 1: Tuesday, 9/18/2018 6:30 PM - 9:00 PM
Session 1: Thursday, 9/20/2018 6:30 PM - 9:00 PM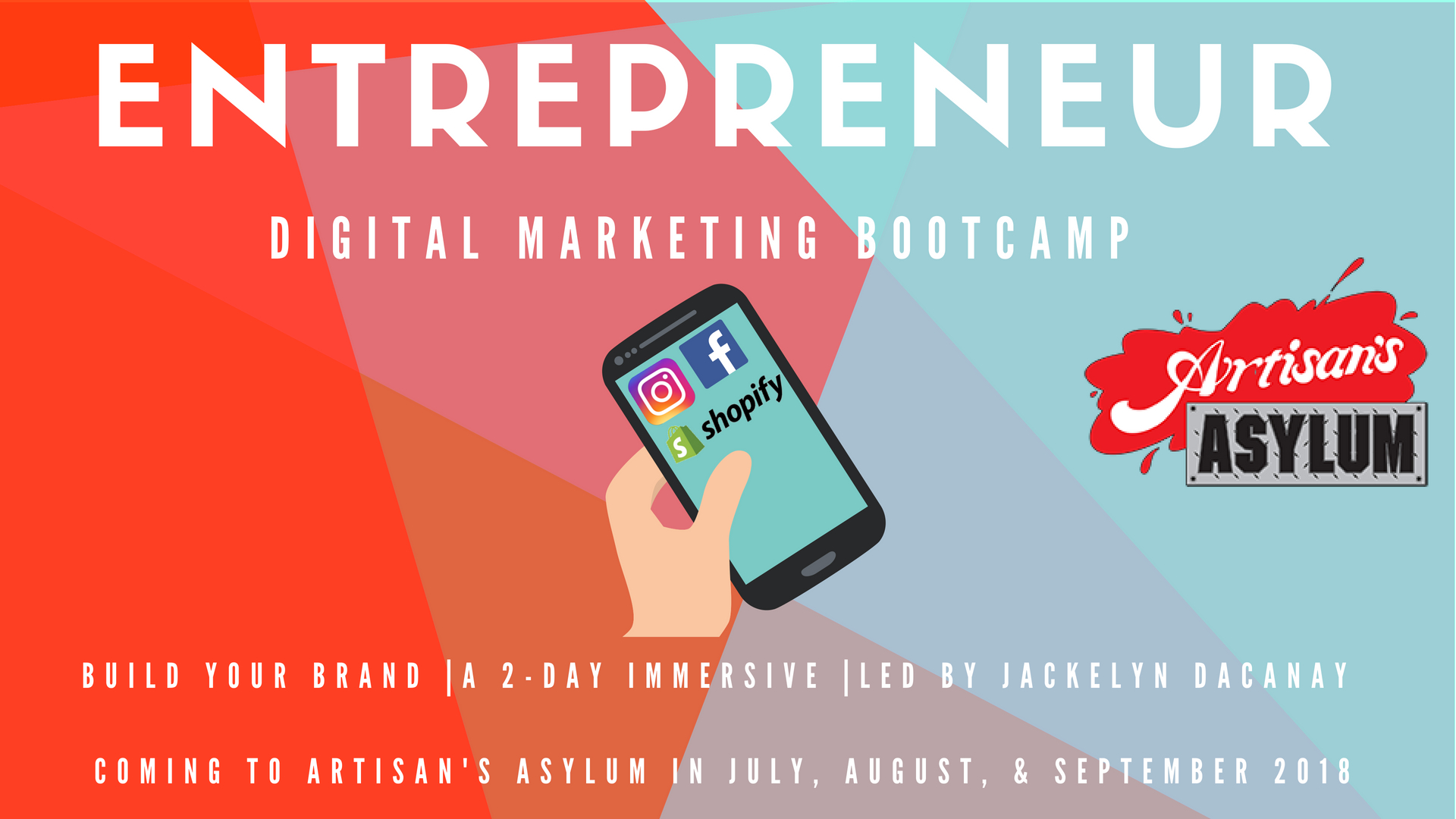 Class Description:
In this interactive 2-day digital marketing bootcamp, you will learn how to build your brand on the fastest growing platforms on social media in 2018. This class is geared to the on the go entrepreneur: most topics covered will be teaching you how to run your business from your smartphone. We will cover essential topics you need to know to succeed as an artist in today's digital world. You'll dive right into the action steps you can take right away to grow your business online. Bring your smart phone (or laptop) and listening skills, and let's get to work!

Class Goals:
Students will learn: how to find the right digital platforms for their brand, how to master DIY photography to sell their work online, the best apps for editing, animating, and marketing their products, how to get the most of Instagram, how to merchandise their products, writing descriptions that sell, and more!
DAY 1
Understanding the 5 Branding Fundamentals of successful marketing
Using Instagram For Business

Creating a business account vs. personal account

Using Instagram stories and highlights to create connection between your brand and audience

Breaking down the data to learn about your followers demographics, impressions, and engagement

Applying the secret of successful content using 3 key strategies

How to promote a post in less than 5 minutes
Using Facebook For Business

Creating a winning Facebook cover page that attracts new followers

How to create Facebook Ads that drive the most ROI

Using client testimonials to build credibility and drive new sales leads

Creating a Facebook Shop to sell products directly from your page

Why using Facebook Live is a great way to engage with your audience

Building community using Facebook Groups & Events

Introduction to Facebook Blueprint for extended learning
Mastering DIY Photography with your smartphone
How to take high quality photos to market your products

How to edit photos quickly and easily using free and highly-rated apps
Creating a content calendar using Planoly
How to create a content plan to keep your business consistent with daily content that inspires, educates, and engages with your target audience
DAY 2
Setting up your website using Shopify For Business
Choosing a website theme for your product/service

Managing your inventory and customer database

Creating sections that inform customers about who you are, what you do, and why they should choose you over competitors

Designing an email subscriber list on Mailchimp

Integrating your social media channels to your website

Understanding your business metrics and KPIs to define customer behavior patterns and implementing key strategies to drive web sales

Using a blog as content marketing funnel to drive organic traffic using keywords and hashtags relative to your market
BREAKOUT SESSION
5 minutes one-on-one consultations

Q + A

Recap of topics covered

Prerequisites:
Students must be at least 18 years of age.
All levels welcome. Anyone who is interested in developing their brand's online presence through proven and effective marketing strategies.
Materials:
A smartphone (preferred) or laptop, any questions you have on marketing for your business.
Apps will be discussed and it will be helpful to have these downloaded on your phone and an account created.
Class Minimum:
This class will not run with fewer than 3 students so sign up and bring a friend!
Testimonials:
"This was my first introduction to social media in a focused way. I always thought Facebook was for 12 year-old girls and avoided it, but I realize I was wrong.The workshop gave my thinking a complete transformation about what social media is, and how it connects supply and demand through inspiration. What an idea! I'm really inspired to learn more about it and connect on a wide level with people from all areas of life with what I have to offer, and for me to learn what's available at a touch. You presented the workshop in a way that took much mystery out of the medium- not only technical processes, but how people think today in the marketplace, which was a surprise for me. I feel empowered now, to begin a serious presence on social media. I'm an old guy, raised on straight capitalism, but I can see how contemporary thinking includes giving, not just taking. I now see it as a genuine step of progress in the evolution of how society operates- inclusive, generous, quality mindfulness, accountability, giving people choices, and communication on an inspired level. I so appreciate these insights! I Iook forward to learning more." -Craig Elliott, founder of Craig Elliott Studio
" Your workshop was wonderful!!" -Lori Messenger, jewelry designer for DNA Studios
Instructor Biography: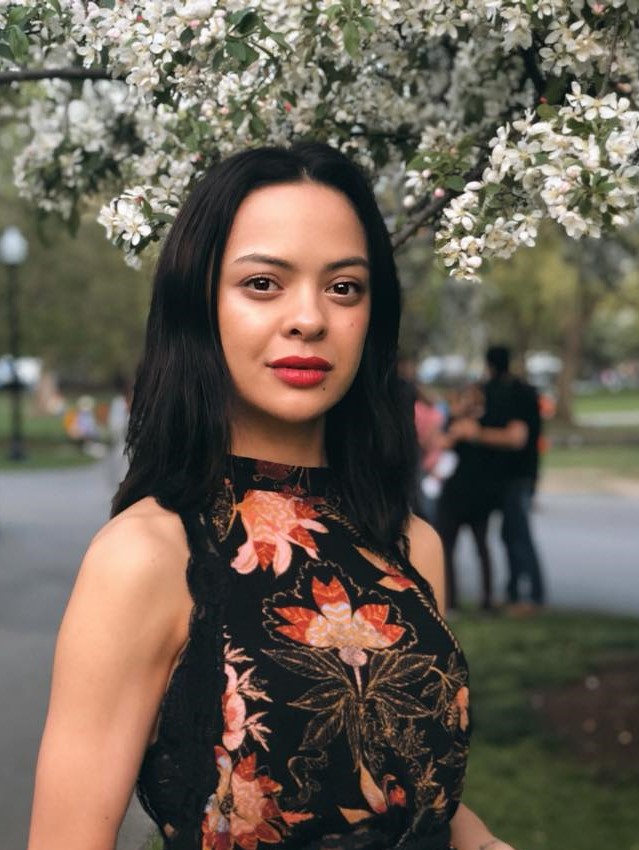 JACKELYN DACANAY, founder of THE ART OF FATE graduated from FIDM, The Fashion Institute of Design & Merchandising in Los Angeles, CA with a degree in Merchandise Marketing where she learned through real industry research projects and presentations what it takes to succeed in the business of fashion. In 2010, she transferred to New York City and became one of the top sales stylists for luxury fashion brand Henri Bendel on 5th Avenue. With 7 years of marketing and sales experience under her belt, she decided to leave the corporate fashion world, and move back to her home-state of Rhode Island to start her own fashion brand.

Over the last 3 years, THE ART OF FATE has evolved from a concept to a reality, with curated collections available online, in-stores, and at exclusive events throughout the Northeast. Her brand has been featured for best products in both fashion and self-care and has collaborated with independent artisans on exclusive products as well as non-profit organizations. Many of these opportunities came from having a strong web presence and knowledge in marketing and business practices. Educating yourself with proven marketing techniques and learning through hands-on-experience is an investment in your business that will empower you to take the lead and share your work with the world.

Professional Profile: https://www.linkedin.com/in/jackelyndacanay/
Business Websites: https://www.theartoffate.us & https://www.boxoffate.com
---
ARTISAN'S ASYLUM STUDENT POLICIES
Purchase of a ticket expresses acceptance of A2's Refunds and Cancellation policies found here: https://artisansasylum.com/classpolicies/
Students: we love getting your feedback! Fill out this form to be heard!