Entrepreneur Bootcamp | Powered by Think Big Partners

Tuesday, October 11, 2011 at 3:00 PM

-

Tuesday, November 15, 2011 at 6:00 PM (CDT)
Event Details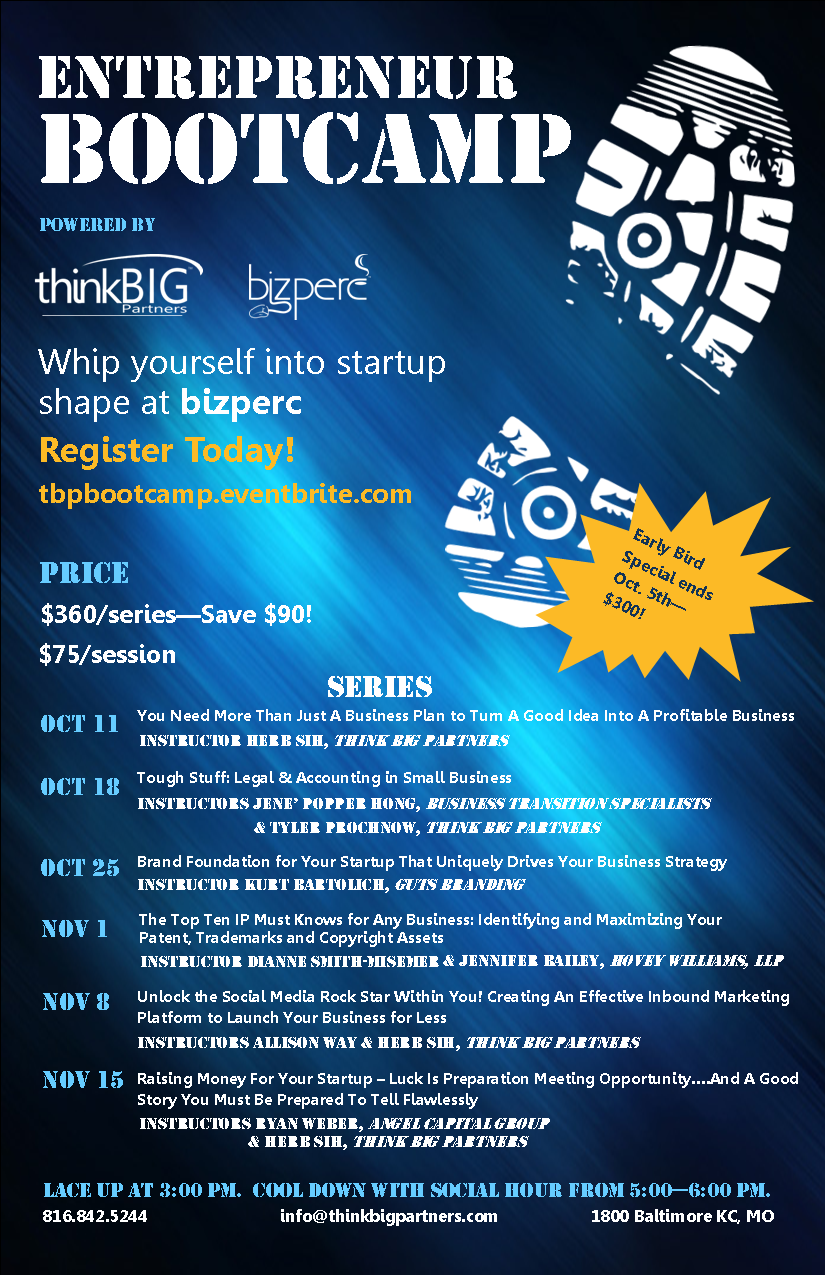 Session Descriptions:
OCT 11
You Need More Than Just a Business Plan to Turn a Good Idea into a Profitable Business
Presented by Herb Sih of Think Big Partners on October 11
There are a lot of good business ideas in today's world, but not every idea is worth doing. It must be profitable, scalable and achieve some level of success quickly to attract the right funding, people and opportunities. The concept of Minimum Viable Product (MVP) is critical to understanding if your idea can succeed in today's hyper-competitive global marketplace. In this session you will find out if your business concept is a good one.  You will learn:
·         What is a good business concept?
·          How to determine if your business idea is a bad one, good one – or a great one
·          How to conduct divergent market research on your idea (Virtual Proof of Concept)
·         How to expose your idea to potential customers, funders, advocates and influencers without compromising Intellectual Property or signing NDA's
·         How to analyze the financial market potential for your idea or business (Addressable Market)
·         How to determine if you really need a business plan, and if so, what the most important elements of that business plan are
 OCT 18
Tough Stuff: Legal and Accounting in Small Business
Presented by Tyler Prochnow of Think Big Partners and Jene' Popper Hong of Business Transition Specialists
 Every startup struggles with the following question: "When should I get a lawyer involved?"  The costs associated with quality legal assistance can sometimes seem overwhelming to the bootstrapped entrepreneur.  Yet the courts are filled with law suits that could have been easily avoided had a lawyer been consulted during the initial launch of the company.  This session will walk you through these critical startup questions and help you manage your legal budget effectively.  In this session, participants will answer these much-needed questions:
·         Am I being penny wise and pound foolish? 
·         Am I being over-lawyered? 
·         Are lawyers like everything else; you get what you pay for? 
OCT 25

Why You Can't Afford to Just Be in Business.  Rather, You Must Be In the Business of Brand
Presented by Kurt Bartolich of GUTS Branding

Much too often, brand is treated by companies as an initiative or a tactic of a business.  The focus tends to be on logos, slogans, websites and marketing collateral, and growth is often slow if it comes at all. But the most successful companies understand that they aren't in business.  Rather, they are in the business of brand. They think "identity" but focus on "entity", building a brand strategy and foundation based on differentiation, laser-focus and company-wide accountability. This session will provide the framework to building an impervious, sustainable and profitable brand foundation that ensures authentic, consistent and remarkable experiences for your customers and prospects by teaching you:
·         The first place you must start in creating your brand strategy
·          How to control mindshare to own market share
·         What a brand really is, why slogans never work and how "branding" will actually hurt your bottom line
·         Why you need a brand mission, not a company mission, and how to create one uniquely for your business
·         How failing to use your brand to govern your human capital, organizational development and economic models will stunt your growth and could even doom your business
NOV 1
The Top Ten IP Must-Knows for Any Business:  Identifying and Maximizing Your Patent, Trademarks and Copyright Assets
Presented by Dianne Smith-Misemer and Jennifer Bailey of Hovey Williams, LLP
A company's intellectual property is an asset that can be sold, bought, or licensed like any other, and protecting it early adds value to the company and prevents frustrating disputes later.  This session will focus on the IP concerns that any small to mid-sized businesses may run into.  In this session, you will learn the following:
·         How to identify your IP assets and determine how best to protect and prioritize within budgeted legal expenditures
·         How to ensure that you own the IP you pay for (for instance, did you know if you hire someone to prepare a website for you, without an assignment, the website developer owns the IP?)
·         How to avoid common pitfalls and recognize time deadlines that prevent full use of your IP
NOV 8
Unlock the Social Media Rock Star Within You! Creating an Effective Inbound Marketing Platform to Launch Your Business for Less
Presented by Herb Sih and Allison Way of Think Big Partners
Inbound Marketing combines the tactics of social media marketing and content marketing all into one platform to achieve important business marketing goals. Stop interrupting and start getting your customers to reach out to you when they are ready to do business. Bring your laptop! This interactive session will cover the art and science of content marketing, advanced social media marketing practices (Twitter, LinkedIn and Facebook) and more. Participants will learn:
·         An overview of the major social networking platforms and how to use each one
·         How to evaluate your market (audience) and create a content strategy that will get people to engage with you and your brand
·         How to understand the "recipe" to integrate your social media and content marketing efforts to maximize results
·         How to create the right image and profiles that demand attention on the 3 top social networking platforms
·         How to create an actionable social media marketing playbook that you can execute on your own
·         An understanding of the difference between earned media, paid media and placed media and the benefits of each
·         How to create compelling content that will reinforce your brand, optimize your website and support your business goals
·         Real case studies that showcase tactics you can use to achieve your marketing goals
NOV 15
Raising Money for Your Startup – Luck is Preparation Meeting Opportunity….And a Good Story You Must be Prepared to Tell Flawlessly
Presented by Herb Sih of Think Big Partners and Ryan Weber of Angel Capital Group
Raising capital in today's marketplace can be more challenging than ever before. There are too many good ideas and too little money (plus not all money is created equal!).   In this interactive session, participants will learn the art of the pitch and the homework that is required before any conversation is even started. Pre-work will be sent out to registered participants so we hit the ground running. The session begins with insight into what must be understood before an investor pitch is ever made, and concludes with elevator pitch refinement that will empower you to tell your story better than ever before when you leave.  Participants will learn:
·         How to evaluate addressable market size and revenue drivers that will influence your valuation
·         The 3 valuation methods than can be used to determine pre-money valuation before your seek funding
·         The most important elements of a successful investment pitch and how to tell the story
·         The biggest unspoken concerns and red flags funders will have if you say the wrong things
·         Understanding the difference between angel investors and venture capitalists (and how to decide who you should target)
·         The 5 most critical elements of an attractive startup
·         How to create the perfect pitch deck – and what NOT to do
·         The right way (and wrong ways) to approach funders
·         How to find a lead investor
·         When to close a round and get investor commitment
·         An understanding the legal issues regarding raising capital
·         How to create a compelling elevator pitch – and perfecting it before you leave
When & Where

bizperc
1800 Baltimore
6th Floor
Kansas City, MO 64108


Tuesday, October 11, 2011 at 3:00 PM

-

Tuesday, November 15, 2011 at 6:00 PM (CDT)
Add to my calendar
Organizer
Think Big Partners
Think Big Partners is an early-stage startup accelerator and mentorship-based collaborative network located in Kansas City, Missouri. Think Big Partners has successfully launched or grown over 150 successful companies with its creation of coworking spaces (Think Big Coworking), entrepreneurial conferences (Think Big Kansas City and iKC), essential services, startup resources and funding (Think Big Ventures). To learn more about Think Big Partners, please visit http://www.thinkbigpartners.com. 
Entrepreneur Bootcamp | Powered by Think Big Partners