Description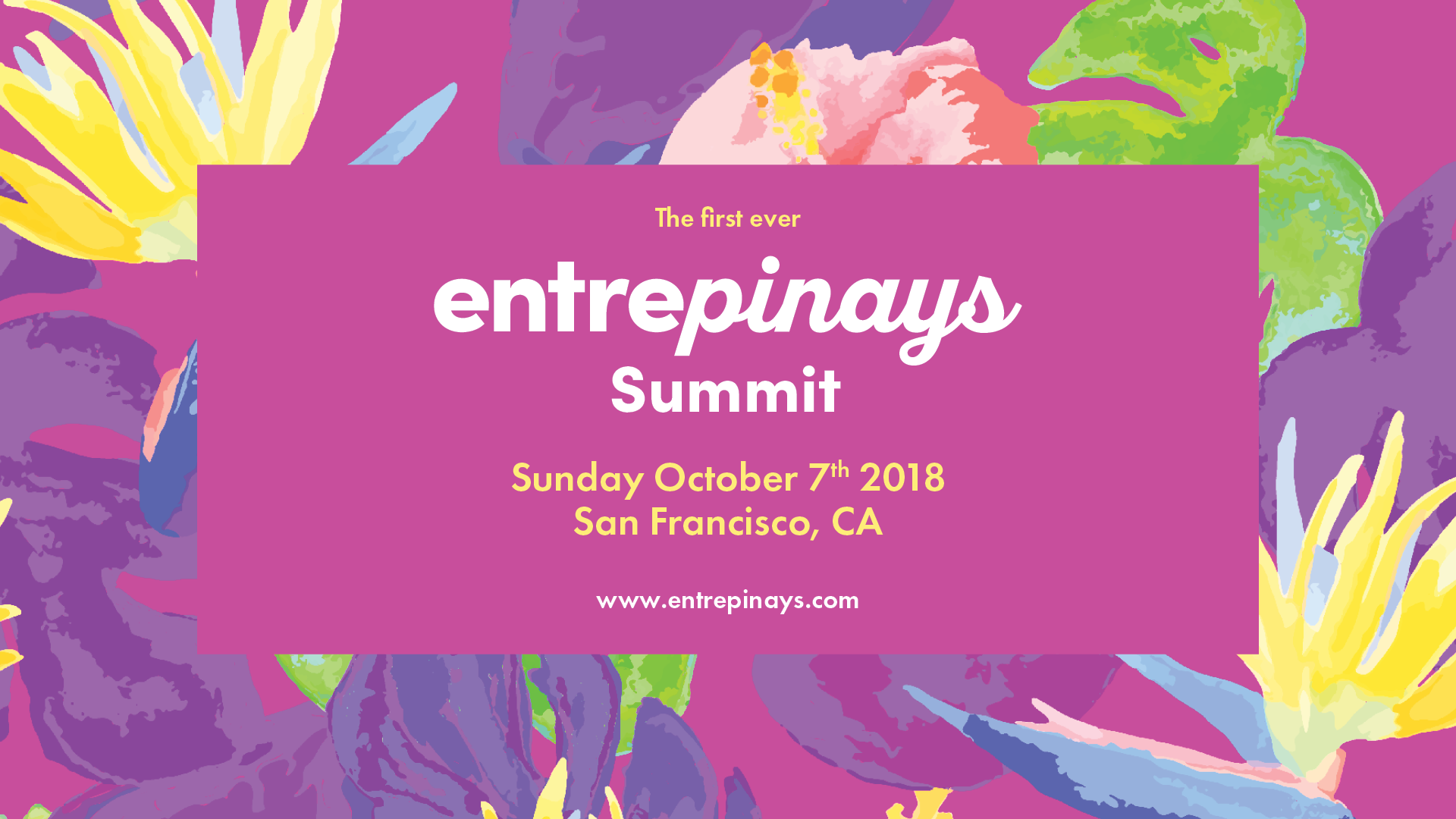 WE'RE OFFICIALLY SOLD OUT!
Thank you all for the support. We can't wait to see you on Sunday. For those who are not able to attend, please follow our Instagram and YouTube since we will be posting the Lightning Talks and Panels on YouTube after! (www.entrepinays.com/youtube).
You asked for it, so we're bringing it to you. A conference made FOR Filipina entrepreneurs, BY Filipina entrepreneurs -- the first ever ENTREPINAYS Summit!
Join us for a day of interactive workshops, panel discussions, mentorship & knowledge-share meetups, delicious food (catered by fellow Entrepinays in food), and of course, inspiring pinays from all over the U.S. (with a special guest from Canada!). We are excited to welcome pinays from LA, to the Bay, to Seattle for the day.
From Purpose to Practice, we're doin the damn thing. Join us as we UNITE the next generation of pinay entrepreneurs and leaders.
Brought to you by:
SAMPLE SUMMIT SCHEDULE:
"The 5 P's": Purpose, Practice, Partnerships, Party, and of course, Pinays :)
9AM: Registration, Breakfast & Activities
9:45AM: Welcome
10AM: "How I Entrepinay" Lighting Talks
11AM: PURPOSE - Workshop #1
12:15PM: PANEL - Hustle for a Cause (Brought to you by Endeavors Collective). Hosted by Gina Rosales (Make it Mariko, Founder)
1PM: Power Pinay Lunch
2PM: Guided Practice
2:15PM: PANEL - Decolonizing Business. Hosted by Irene Duller (An Otherwise, SF State, USF)
3PM: PRACTICE - Workshop #2
4:20PM: PANEL - MamaMakers: Wholeness. Wellness. & Work.
5PM: Closing Circle - Allyson Tintiangco-Cubales
5:30PM: PARTNERSHIPS & PARTY! - Entrepinays in the Arts Performances, DJ, Activities, Meetups by Industry
7:30PM: Event ends
SPEAKERS & PANELISTS:
For full list of speakers and panelists, go to www.entrepinays.com/speakerbios.
FUTURE ENTREPINAY SCHOLARSHIPS:
Are you an aspiring entrepinay looking for inspiration and direction on starting your own business? We have scholarships available! All scholarship recipients agree to:
1) Volunteer the day of the event
2) Write a blog recap of one workshop to post on the Entrepinays website after.
**TO APPLY for a scholarship ticket to attend, fill out the scholarship form here.
ABOUT OUR VENUE SPONSOR ::: COVO (www.hellocovo.com)
Covo is coworking where the playing field is level. We support all entrepreneurs with special focus on women, people of color, minorities, immigrants, and the LGBTQ community. We offer hourly drop-in workspace as well as monthly plans with 24/7 access to the space. Come work alongside your tribe.
2018 Entrepinays Planning Commitee:
Gina Rosales, Make it Mariko Events

, Founder

Irene Duller, An Otherwise / SF State, Founder / Professor
Junalene Demavivas, Juna Alinea, Founder
Allyson Tintiangco, Pin@y Educational Partnerships, Founder / Professor
Glenda Macatangay, Upper Cloud Media, Founder
Stephanie Gancayco, Hella Pinay, Founder
Joanne Boston, JBKollaborations, Creative Director
Angelique Lobo, Event Manager
QUESTIONS? Email hello@entrepinays.com.