Description



BE THE BEST YOU, YOU CAN BE AT ENTRECON® 2019.
If you're ready to soak in the latest leadership trends, feel inspired, surround yourself with like-minded people and propel results to the next level, you belong in downtown Pensacola November 13-14.
EntreCon® is a business and leadership conference with a community-centric twist, offering leaders from across all industries an opportunity to grow together.
Experience captivating keynotes and actionable breakout sessions on leadership, growth, marketing, mindfulness, social media, innovation, and so much more.
Whether you're an aspiring or established leader, EntreCon® is here to help you be the best you, you can be and prepare you for the workforce of the future.
Be a part of the movement: Let's create great places to work together.
---
BE PART OF THE MOVEMENT
EntreCon®, Northwest Florida's premier business and leadership conference, provides the content, thought-leadership, and networking opportunities you need to succeed and packs them into one can't-miss event. What started as a two-day conference for entrepreneurs has quickly shifted (by demand) to one for business owners, leaders and employees alike.
On November 13 - 14, 2019, downtown Pensacola will once again be filled with a growing tribe of energized, forward-thinking leaders ready to find their purpose, build their skill set, lead stronger teams, and foster better workplaces.
Now in our 5th year, EntreCon® will help you be the leader you need to be — flexible and adaptable to the rapidly changing workplace environment while simultaneously encouraging creativity and innovation.
How are you positively influencing your team? Bring them with you to EntreCon® — you'll all leave inspired by fresh ideas, armed with the latest tactics and strategies to bring those big ideas to life, and connected to other like-minded professionals there to support your professional growth and the success of your organization.
EntreCon® 2019 will give you the tools to inspire, outperform and outlast the competition.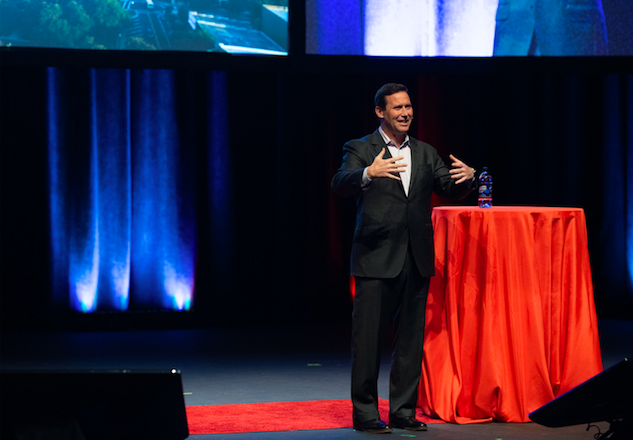 Best-Selling Author and Keynote Speaker, Jon Gordon, at EntreCon® 2018.

---
2019 AGENDA AND SPEAKERS TO BE ANNOUNCED!
Don't miss a beat when it comes to receiving announcements regarding this year's EntreCon®. Sign up for our Leadership Development e-newsletter now to stay in the loop!

Here are just a few of the areas participants may explore:
Why self-awareness and coachability are crucial leadership qualities
How to assess the unconscious factors that hold you back from achieving your full potential
Why emotional intelligence, creativity and other "soft skills" matter more than ever in our increasingly high-tech world (and how to master them)
How to leverage the power of diversity and inclusion in your workforce
The skills and practices that keep the workplace authentic and "human"
How you can learn to view service in a different (even joyful) way—and how to get employees to make the shift, too
The hidden drivers of consumer behavior and how to leverage them
How and why businesses are taking on a pivotal role in creating vibrant communities
---
BRAND YOURSELF WITH EXCELLENCE AS A 2019 SPONSOR
With a variety of options and investment levels, sponsorship packages are available to fit every budget and every need. Email our Chief Leadership Development Officer Rachael Gillette to learn more or to build a custom sponsorship right for your organization.