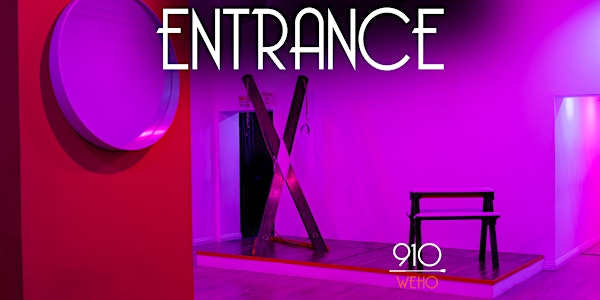 ENTRANCE: A Kink Experience For Newbies
It's not the next step, it's the first step. And, it's the first step that counts. A Facilitative Experience for Newbies at 910WeHo
When and where
Location
910WeHo 910 North La Cienega Boulevard Los Angeles, CA 90069
Refund Policy
Contact the organizer to request a refund.
Eventbrite's fee is nonrefundable.
About this event
A fun and facilitative educational experience delving in the world of kink! Join Erin Tillman CSE, The Dating Advice Girl and Executive Director of Sex Positive Los Angeles and Thomas Hoffman MS, GM of 910WeHo and Nationally Recognized Counselor for a curated experience covering soft and hard skills.
We will cover the basic soft skills such as party etiquette, social skills, boundaries, power dynamics and of course consent, and showcase a hard skill as well as an introduction to rope!
Join us for this amazing introduction to the world of kink and the LA Kink Scene!
Please note, this event is not a play party; there is no open play or direct participation in kink activities by guests at this event.
SCHEDULE OF ACTIVITIES:
TO BE ANNOUNCED
About Our Presenters:
Erin Tillman is a Certified Intimacy Coordinator, Certified Sex Educator, inclusive Dating & Consent Empowerment Coach, Consultant, Author, Speaker, and TV/Radio/Podcast Host based in LA. She is also the current Executive Director of sexuality nonprofit Sex-Positive Los Angeles. She is currently serving on the SAG-AFTRA Sexual Harassment committee. In 2021, Erin's book, The Consent Guidebook, was selected by AASECT (The American Association of Sexuality Educators, Counselors, and Therapists) to receive its 2021 General Audience Book Award. In 2018, Erin was awarded the Gender Equity Champion Award presented by the California National Organization for Women (California NOW). For over ten years, she has been dedicated to empowering singles in all lifestyle and identity categories to have enjoyable dating lives, relationships, and partnerships through personal development and boundary-setting techniques.
---
Be sure to check out our other events at 910weho.com/events
Want to see who's going, match, chat, and meet the community? Check out Entrance: A Kink Experience for Newbies on the Bloom Community App: https://bl.ooo/m/entrance-a-kink-experience-for-newbies-27
---
F.A.Q
When do the doors open?
Guests will be allowed to start entering the facility after 7:00 PM. Parking is more accessible the earlier you arrive! THE DOORS WILL CLOSE AT 9:30 pm WITHOUT EXCEPTION! ARRIVING LATE DOES NOT ENTITLE YOU TO A REFUND!
Will there be food and beverage available?
Yes, snacks and beverages are complimentary!
What's the Dress Code?
Please wear casual clothing. Street-appropriate clothes.
Where is 910 WeHo?
910 N La Cienega Blvd, Los Angeles 90069
Where can I park?
There is street parking, meter parking, and even parking structures within walking distance. We recommend using the residential side streets for free parking, as there are many near our building. If you need special arrangements due to a disability, please contact us at info@910weho.com so we can help accommodate you!
Got questions? Comments? Concerns? Contact us at info@910weho.com!
---
What is 910 WeHo doing to ensure that this event is safe, controlled, and compliant with current covid-19 restrictions?
910 WeHo is taking great care to make this in-person event as safe as possible. We are aware of CDC guidelines and will be instigating the following measures to ensure that guests and staff are not exposed to unnecessary risk:
Masks - Masks will be provided upon request and are currently optional.
Call Outs - REFUNDS WILL BE GIVEN IN FULL TO GUESTS WHO CALL OUT SICK
BEFOREHAND. GUESTS WHO ARRIVE ILL WILL ONLY BE GIVEN A PARTIAL REFUND!
Please do not show up to this event sick or with symptoms of illness.
Administering Hand Sanitizer - Guests will be required to use hand sanitizer before entering our facility and may be asked to use hand sanitizer again upon exiting.
Upholding CDC Occupancy Guidelines - As CDC guidelines continue to change, we will continue to honor them. Our in-person events and classes are vaccination only.
---
REFUND POLICY!
910 WeHo will refund the cost of your ticket (not the fee) if the refund is requested up to 12 hours before the start of the event or class. Once the event or class has begun, 910 WeHo does not guarantee refunds, although you may still request a refund, and we may choose to grant it at our discretion. If you know you will not be able to attend, please request a refund early by contacting us at info@910weho.com! Thank you!