Descripción
On 23 October, as of 09.00h, the doors of CoBuilder Hub will be officially open to everyone.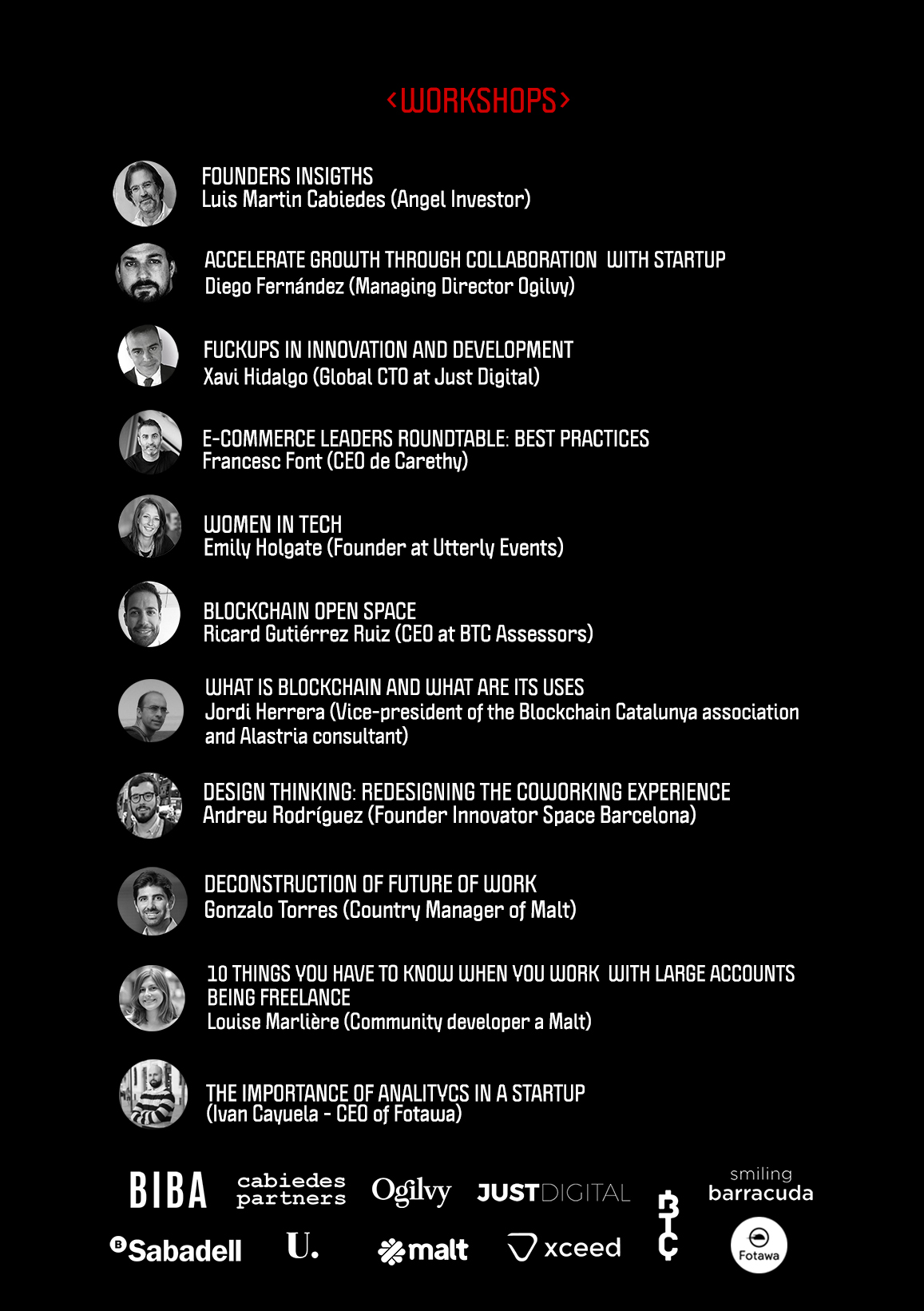 The entire day we will offer talks and workshops from different spaces in the hub, where we host experts from a variety of areas, who will be sharing their knowledge about topics every entrepreneur needs to know thoroughly. Sounds good, right?
There will be held more than 6 talks during the Open Day, with the common aim to promote synergy amongst the ecosystems of entrepreneurs, corporations and investors, who wish to implement a culture of smart working, as well as offering resources to exploit and validate ideas in a relaxed environment.
Please feel welcome to open your laptop at one of our workstations in between the talks and stay to toast on our opening in the afternoon!
Join our community, come to celebrate with us our opening and expand your business network with investors, entrepreneurs and large companies!
Schedule tentative:
Terrace 1:
10:00 - 12:00h: Accelerate growth through collaboration with start-ups (Diego Fernández - Ogilvy Upcelerator)
15:00 - 17:00h: Fuckups in innovation and development (Xavi Hidalgo - Just Digital)
Terrace 2:
12:00 - 13:00h: Deconstruction of Future of work - UnConference (Gonzalo Torres - Malt)
15:00 - 16:00h: Women in Tech (Emily Holgate - Utterly)
18:00 - 19:00h: Founders Insights (Luis Martin Cabiedes - Angel Investor)
First floor:
10:00 - 13:00h: Open Space of Blockchain: -How to implement Blockchain Technology on existing business models - Blockchain fuckups.
10:00 - 13.00h: What is Blockchain and what are its uses
15:00 - 18:00h: Open Space of Blockchain: - New Models - ICO + Smart Trading in Cryptos.
Training Room 1:
10:00 - 12:00h: Innovation in Ecommerce by Carethy & RSV (Francesc Font)
16:00 - 17:00h: The importance of analytics in a startup (Ivan Cayuela - CEO of Fotawa)
Training Room 2:
12:00 - 13:00h: 10 Things you have to know when you work with large accounts being freelance (Louise Marlière - Malt)
15:00 - 17:00h: Design Thinking: Redesigning the CoWorking Experience (Andreu Rodríguez - Founder Innovator Space Barcelona)
After work / Opening!
17.00h: DJ & beers
Don´t miss it!
Limited spots.
________
A partir de las 9:00h de este 23 de octubre las puertas del CoBuilder Hub estarán abiertas al público de manera oficial.
En un mismo día y con actividades que se llevarán a cabo en simultáneo desde los diversos espacios, el hub de innovación acogerá a expertos de diferentes áreas quienes serán los encargados de brindar y exponer su conocimiento sobre temas que cualquier emprendedor debe conocer a fondo. Suena bien, ¿no?
Serán más de 6 charlas las que se llevarán a cabo en este Open Day que tendrá como objetivo impulsar la sinergia del ecosistema emprendedor entre corporaciones e inversores que deseen implementar en su método de trabajo la cultura del smart co-working, así como ofrecer recursos para explotar y validar las ideas desde un ambiente distendido.
Siéntete libre de abrir tu portátil y sentarte en cualquiera de nuestras mesas de trabajo entre las charlas.
¡Únete a nuestra comunidad, ven a celebrar con nosotros nuestra apertura y amplía tu red de negocios entre inversores, emprendedores y grandes empresas!
¡No te quedes a fuera!
Plazas limitadas.