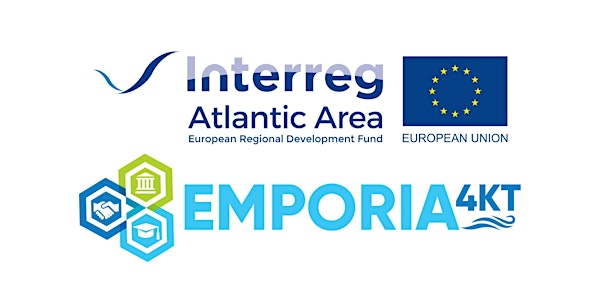 Fostering Innovation through the Blue Economy
Fostering Innovation through the Blue Economy: from the Canary Islands to the Atlantic Area perspective
Por La Palma Research Centre
Fecha y hora
mar., 20 de jun. de 2023 9:30 - mié., 21 de jun. de 2023 14:30 WEST
Ubicación
España Auditorio Alfredo Kraus 35010 Las Palmas de Gran Canaria Spain
Acerca de este evento
1 día 5 horas

Entrada electrónica móvil
Welcome to "Fostering Innovation through the Blue Economy: from the Canary Islands to the Atlantic Area perspective". This event will take place on Tuesday 20th and Wednesday 21st of June 2023 at 09:30 AM and 9:00 AM for the second day, in the Auditorio Alfredo Kraus in Las Palmas de Gran Canaria. Join us for a day full of talks and discussions about the technologies developed in the capacitation programme of EMPORIA4KT project and roundtables about challenges, oportunities, policy and funding mechanisms to foster Blue Innovation.
Our speakers come from diverse backgrounds from the blue economy quadruple helix, including researchers, entrepreneurs, policymakers and society. They will share their experiences, insights, and technology innovation on how we can harness the potential of the ocean to develop economic and sustainable solutions for the future.
Throughout the day, you will have the opportunity to network with other attendees and participate in interactive roundtables. These activities will allow you to explore the latest trends and technologies in the blue economy and exchange ideas with like-minded researchers and professionals.
Don't miss this chance to be part of this dynamic community. Register now and join us in Las Palmas de Gran Canaria!