Este evento ha finalizado.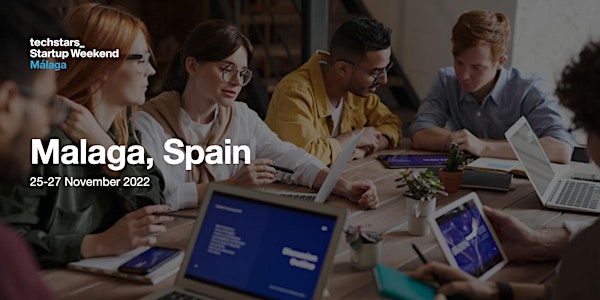 [CANCELED] Techstars - Startup Weekend Malaga - November 25>27/2022
[CANELED] Startup Weekend Malaga - Find an idea, meet cofounders, and build a startup in 3 days. Construye una startup en 3 días.
Cuándo y dónde
Ubicación
Innovation Campus - Malaga Urban Technopole 7 Calle Álamos 29012 Málaga Spain
Política de reembolso
Contacta con el organizador para solicitar un reembolso.
La tarifa de Eventbrite no es reembolsable.
Acerca de este evento
[EVENT CANCELED - We will schedule a new event in the spring, stay tuned.]
Startup Weekend Malaga
Bilingual Edition - Español/English
>> English below <<
Aprende a pensar, trabajar y construir como una startup en 54 emocionantes horas. Techstars Startup Weekend es una incursión emocionante e inmersiva en el mundo de las nuevas empresas. Durante tres días llenos de acción, conocerá a los mejores mentores, inversionistas, cofundadores y patrocinadores para mostrarle cómo hacer más cosas más rápido, y tal vez incluso comenzar ese negocio.
¡La entrada incluye los 3 días de evento, gadgets, comidas y fiesta de cierre!
¿Estás listo para empezar? ¡Estamos listos para ayudarte!
Learn how to think, work, and build like a startup in 54 thrilling hours. Techstars Startup Weekend is an exciting and immersive foray into the world of startups. Over an action-packed three days, you'll meet the very best mentors, investors, co-founders and sponsors to show you how to get more done faster -- and, maybe even start that Business
Entrance includes the 3 days of the event, gadgets, food and the closing party!
Are you ready to get started? We're ready to help you!