Este evento ha finalizado.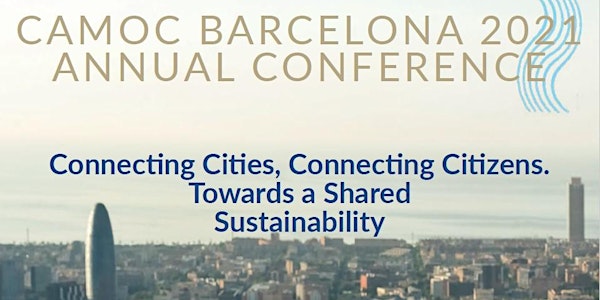 CAMOC BARCELONA 2021
The CAMOC Barcelona Annual Conference 2021, under the theme "Connecting Cities, Connecting Citizens. Towards a Shared Sustainability".
Cuándo y dónde
Ubicación
Museo de Historia de Barcelona MUHBA s/n Plaça del Rei 08002 Barcelona Spain
Política de reembolso
Contacta con el organizador para solicitar un reembolso.
La tarifa de Eventbrite no es reembolsable.
Acerca de este evento
Summary: The CAMOC 2021 meeting will focus on the role that city museums can play as strategic institutions of urban, social and cultural development.
Connecting cities and citizens in a multi-scale network, simultaneously taking into account the neighbourhood, city and global perspectives, can contribute to a more diversified and sustainable urban economy. City museums can promote new tourism practices, respectful of the environment and the local population. City museums should also be seen as key nodes of technical knowledge in heritage conservation and management, cultural innovation and urban cohesion that can contribute to local development.
Featuring the ICOM-CAMOC founders and developers, Suay Aksoy, Ian Jones and Chet Orloff, the History Museum of Barcelona Director Joan Roca, and speakers from over 33 cities of the 5 continents.
This event will take place on-site; however, we will also be streaming it online.
For inquiries and more information about the CAMOC BARCELONA 2021 Annual Conference, please contact : camoc2021barcelona@gmail.com
You may find further details and the preliminary programme at: https://camoc.mini.icom.museum/conferences/barcelona-2021/
REGISTRATION FEES:
Individual members of ICOM and CAMOC: 60 €
Non-members: 70 €
Students: 30 €
*if you register as a student, please send proof of your status to the CAMOC Treasurer at: patriciabrignole@gmail.com
CAMOC grantees: exempt
MUHBA - Host museum team: exempt
IMPORTANT: All participants who attend the Barcelona Conference in person must register here, on-site registration/payment will not be possible
Registration fee to join the event on-site covers: conference bag, access to all conference sessions and organised visits, lunch for all three conference days, closing dinner and access to one of the post-conference tours on December 4 (upon registration on site, on first-come-first-served basis)
NOTE: Registration and payment on this platform are required for on-site participants only.
Thank you for joining CAMOC Barcelona 2021!



COVID-19 INFORMATION: All on-site participants must ensure they comply with Covid-19 travelling regulations for Spain. You can download the below information for your reference (up to date as of October 7, 2021 Here
1. Before Travelling and During the Conference
Before travelling and during the Conference in Barcelona, you must make sure to have with you, at all times, one of the following :
a) Vaccination Certificate
- Certificate after full vaccinationThe certificate must state your name, surname, and date of birth. You will prove yourself with a certificate (paper or electronic) each time you enter a nightlife establishment.
It is mandatory that the vaccine received and stated on the certificate is one of those approved by the European Union, ie. BioNTech & Pfizer, Moderna, AstraZeneca and Janssen.
b) A negative test result certificate, which can be either:
- Certificate of having undergone an antigen test (done a maximum of 48 hours before); - Certificate of having undergone a PCR test (done a maximum of 72 hours before).
c) Certificate of having survived a COVID-19 infection, provided it has been issued no longer than 180 days after your first positive PCR test result.
Therefore, the full vaccination certificate is not mandatory if you have one of the other two options.
Furthermore, please note that the use of masks is mandatory. The Catalonia Government strongly recommends using FFP2 masks/respirators. Facemasks must be worn inside all public buildings, in all educational facilities and on all public transport (including taxis). Please have in mind the information given here: HERE: https://web.gencat.cat/en/activem/restriccions-territorials/catalunya/index.html
2. Travelling Regulations
Due to the COVID-19 health crisis, it is mandatory to fill out a Health Control Form which can be accessed from the page https://www.spth.gob.es/ or by downloading the app on your mobile from the same page.
Before The Trip:You must complete the entire Form from the website or the app, and from 48 HOURS before the flight you can send the form to the health authorities. Once sent you will receive an email with a QR Code that will allow you to access the destination airport. You must have it printed or on your mobile phone.
To fill in the Health Control Form you should check if your country of departure is on the list of risk countries/areas. For further information: https://www.mscbs.gob.es/en/profesionales/saludPublica/ccayes/alertasActual/nCov/documentos/Annex_II_risk_countries_and_areas_between_27-09-2021_and_03-10-2021.pdf
At The Airport:Once at the airport, you must show the QR Code that will be scanned at the health control, before accessing the terminal and collecting your luggage.
Upon Your Arrival to Spain:Document checkingUpon arrival in Spain, you must present your QR code to the QR code readers located at the health checkpoints. This control may be of several types, depending on the type of certificate used to complete the FCS:
Fast Control (Fast-tracked through the QR readers of the controls)
• Passengers who have an EU Digital COVID Certificate in any of its three modalities (vaccination, diagnosis, and recovery) must upload it to SpTH at the time of completing their FCS. It is also possible to upload a COVID-19 certificate issued by a country with which the EU has established equivalence with the EU COVID Digital Certificate; these countries can be consulted on the European Union (EU) website EU Website . Once validated by the application, the system will send you a QR code with the name FAST CONTROL that will allow, a priori, a faster passage through health control upon arrival in Spain.
• Children under 12 years of age are NOT required to submit these documents, but they do have to fill in the FCS to obtain a QR code, which will be identified as FAST CONTROL.
Document Control (Control with certificate check)
• If you do not have an EU Digital COVID Certificate / COVID-19 equivalent certificate recognised by the EU or you are not able to upload it to SpTH, you will have to manually enter the data of the certificate you have. In this case, the times of worry, for a transitional period, it will not be mandatory to present it.passage through the health control will be slower, since it entails the possible review of your certificate by the health control staff.
• If you are an EU citizen but do not have an EU Digital COVID Certificate, don't
• If you are a citizen of a third country, you can manually enter the data of your supporting document (vaccination / test / recovery of COVID-19).
3. Further information
For all other matters or questions about COVID restrictions, please check the country's regulations at: www.spth.gob.es www.spth.gob.es ; and the local Government regulations at https://web.gencat.cat/en/activem/restriccions-territorials/catalunya/index.html