Este evento ha finalizado.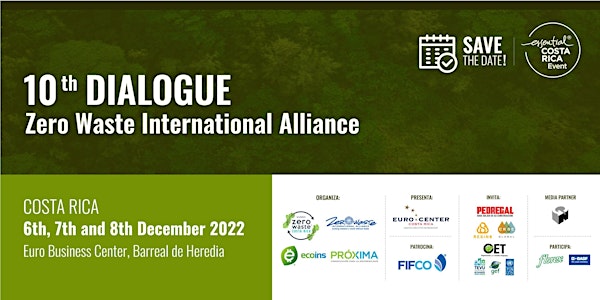 10th Dialogue Zero Waste International Alliance
An opportunity to connect with national & international leaders and experts in the field of zero waste, sustainability, and circular economy
Política de reembolso
Contacta con el organizador para solicitar un reembolso.
La tarifa de Eventbrite no es reembolsable.
Acerca de este evento
***ENGLISH***
Zero Waste International Alliance (ZWIA) has presence in 34 countries on five continents and operates at international, national and local levels and involves all sectors of society. ZWIA was established to promote alternatives that prevent waste from reaching landfills or being incinerated, promoting the recovery of useful materials and raising awareness of the social and economic benefits obtained when waste is seen as an opportunity to generate jobs and establish new enterprises.
This year, Costa Rica has been chosen to host the 10th International Dialogue of the Zero Waste International Alliance, which will take place from December 4th to 8th, 2022. Experts from the United States, Canada, Brazil, Uruguay, Colombia, Italy, Sweden and the Philippines will participate in the dialogue, which will be available to all ZWIA member countries.
Investment:
Outside Costa Rica, you can purchase your virtual ticket at eventbrite platform
3-day VIRTUAL pass $20+VAT
Within Costa Rica, you can purchase your ticket VIA SINPE / Bank transfer, for more information, please contact info@zerowastecostarica.org
1-day on-site pass $25+VAT
3-day on-site pass $60+VAT
***ESPAÑOL***
Zero Waste International Alliance (ZWIA) tiene presencia en 34 países en los cinco continentes y opera a nivel internacional, nacional y local e involucra a todos los sectores de la sociedad. ZWIA se estableció para impulsar alternativas que eviten que los residuos lleguen a los vertederos o que sean incinerados, promoviendo la recuperación de materiales útiles y haciendo conciencia sobre los beneficios sociales y económicos que se obtienen cuando los residuos se consideran una oportunidad para generar empleos y establecer nuevos emprendimientos.
Este año, Costa Rica ha sido elegida este año como sede del 10°Diálogo Internacional del Zero Waste International Alliance que se llevará a cabo del 4 al 8 de diciembre de 2022. En el diálogo participarán expertos de Estados Unidos, Canadá, Brasil, Uruguay, Colombia, Italia, Suecia y Filipinas y estará disponible para todos los países integrantes del ZWIA.
Formas de asistir:
Modo VIRTUAL: Se reserva y cancela por medio de la plataforma eventbrite
Pase de 3 días: $20 + IVA
Modo PRESENCIAL: Se reserva por medio del correo info@zerowastecostarica.org y se cancela vía SINPE Móvil / transferencia bancaria
Pase de 1 día $25+IVA
Pase de 3 días: $60+IVA