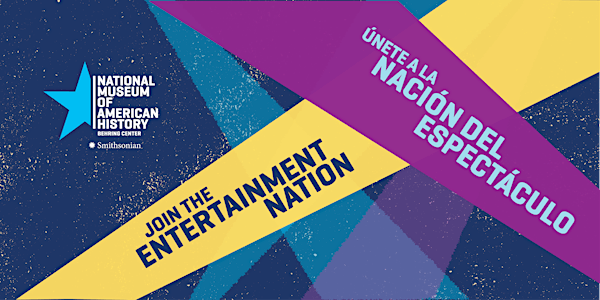 Entertainment Nation Opening Festival
Festival de apertura de La nación del espectáculo
When and where
Location
National Museum of American History 1300 Constitution Ave NW Washington, DC 20013
About this event
Join the Entertainment Nation!
Visit the museum during our ten-day family festival celebrating the opening of our new Culture Wing. On December 9, the museum will unveil the new permanent exhibition Entertainment Nation/Nación del espectáculo, the temporary exhibition (re) Framing Conversations: Photographs by Richard Avedon, 1946–1965, and a video installation on gaming history. Anchoring the Culture Wing through iconic objects from the museum's renowned collection join graphics, video, and compelling stories in Entertainment Nation/Nación del espectáculo to showcase how Americans have long used entertainment to both elicit delight and understand different viewpoints. From December 9 to 18, visitors can enjoy dynamic conversations about the cultural impact of entertainment, intimate talks with curators, sneak peeks at objects from the national collection, film screenings of pop culture classics, free activities, and musical performances that bring entertainment history to life.
Daily activities will include hands-on family crafts, pop-up concerts, and photo ops with beloved characters from film and television. Want to know more? RSVP here to be among the first to receive updates on program registration, news, and more about the Entertainment Nation Opening Festival!
Select programs require registration.
The National Museum of American History welcomes visitors of all ages and abilities. This event is wheelchair accessible. ASL services and assistive listening devices will be provided. Additional accommodations are available upon request; please email nmahprograms@si.edu. Two weeks' notice is preferred.
-----------------------------------------------
¡Únete a la nación del espectáculo!
Visita el museo durante nuestro festival familiar de diez días que celebra la apertura de nuestra nueva Ala Cultural. El 9 de diciembre, el museo inaugurará la nueva exposición permanente Entertainment Nation/Nación del espectáculo, la exposición temporal (re)Encuadrando conversaciones: fotografías de Richard Avedon 1946-1965 y una videoinstalación sobre la historia de los videojuegos. Anclando el Ala Cultural a través de icónicos objetos de la renombrada colección del museo, más gráficos, videos y fascinantes historias en Entertainment Nation/Nación del espectáculo, se muestra cómo los estadounidenses han usado el entretenimiento durante mucho tiempo para provocar el deleite y comprender diferentes puntos de vista. Del 9 al 18 de diciembre, los visitantes pueden disfrutar de dinámicas conversaciones sobre el impacto cultural del entretenimiento, charlas íntimas con curadores, ver objetos de la colección nacional antes de ser inaugurados, proyecciones de películas clásicas de la cultura pop, actividades gratuitas y conciertos que darán vida a la historia del espectáculo.
Las actividades diarias incluirán manualidades prácticas en familia, conciertos sorpresa y sesiones fotográficas con queridos personajes del cine y la televisión. ¿Quieres saber más? Confirma tu asistencia aquí para estar entre los primeros en recibir actualizaciones sobre el registro del programa, noticias y más sobre el Festival de Apertura de La nación del espectáculo.
Ciertos programas requieren registro.
El Museo Nacional de Historia Estadounidense da la bienvenida a visitantes de todas las edades y habilidades. Se puede acceder a este evento en sillas de ruedas. Se proporcionarán servicios de lengua de señas y dispositivos de asistencia auditiva. Hay adaptaciones adicionales disponibles bajo pedido; por favor envía un correo a nmahprograms@si.edu con dos semanas de anticipación.