Description



Broadcast Academy Incorporated Presents an Entertainment Business Master Class, VIP and Independent Artist Contest.
Don't miss this one-day entertainment business educational summit where you can explore opportunities for expanding and protecting your business, growing globally, and funding your business. Designed for singers, songwriters, music producers, DJ's, managers, talent agents, stylists, make-up artist, graphic designers, small business owners and others in the world of entertainment. This will be a great networking opportunity. Meet with final decision makers where you can pitch your music, or services, ask questions, and get real-time feedback from industry professionals. We will be showcasing new talent and providing access to industry professionals, radio, record label A&R's, distributors and others looking to sign singers, songwriters and producers. Join us and bring your best material.
---
RAFFLE PRIZES -
You could win an Artesia Laptop Studio Recording Bundle, $100 Clothing Gift Card, $50 Kapow Restaurant Gift Card, and more. Must be present to win.
ARTESIA ARB-6 BACK PACK RECORDING STUDIO
2-in x 2-out USB Audio Interface Studio Bundle
Record Anywhere! With the unique form factor of the Xkey this bundle allows you to leave the house with a complete recording studio. Simply take your Xkey and premium software on the road and make some music.
---
Perform at The Entertainment Business Master Class
Independent Artist Contest Details:
Contestants will be judged by industry professionals. The winner will receive:
An in studio interview on SoundcheckiRadio.com
Airplay as a featured artist on Soundcheck iRadio.com
Airplay on Live From Miami Internet Radio
A one hour business consultation with Soundcheck Media Group, LLC
A one hour music consultation with AMP Music Lab
Distribution of one single through Soundcheck Media Group, LLC
To sponsor or perform at this event call (561) 631-8258 or click here. Limited seating and performance slots so register early. Get a 10% discount when you apply to perform and submit your music for airplay on on or more of our radio stations.
---
DATE AND TIMES
Entertainment Business Master Class - Sat, July 20th, 2019 - 2:00 PM – 5:00 PM EST

Moderator - Kenneth Spellman - CEO - (Soundcheck Media Group, Broadcast Academy Inc. West Palm Beach)
Television Panel
Ron Burke (WPBF 25 News)
Erin Guy (WPBF 25 News)
Marketing, Promotions, Social Media Panel
Tanya Byrd (Music World, Atlanta)
Anthony Daughtry - Kingdom Marketing & Promotions
Radio Panel
DJ 33 1/3rd - Program Director (WMIB-FM 103.5 Miami)
Hollywood Zay (97.9 FM The Beat Dallas)
Naysimone Crews - On-Air Personality - (Beatz 96.3 West Palm Beach)
Paul Porter - Station Manager, Author (The Wire 98.5 FM - Orlando)
Lorenzo "Ice T" Thomas (Live From Miami Radio, Miami)
Producers Panel
Chase Clark - Producer - (Noizemaka Music, Los Angeles)

Travis Dempsey - Producer (AMP Music, West Palm Beach)
Nick Laudati - Berkelee School of Music, Studio Musician (AMP Music Lab, West Palm Beach)
Video Conference Participants (TBA)
---
Sponsors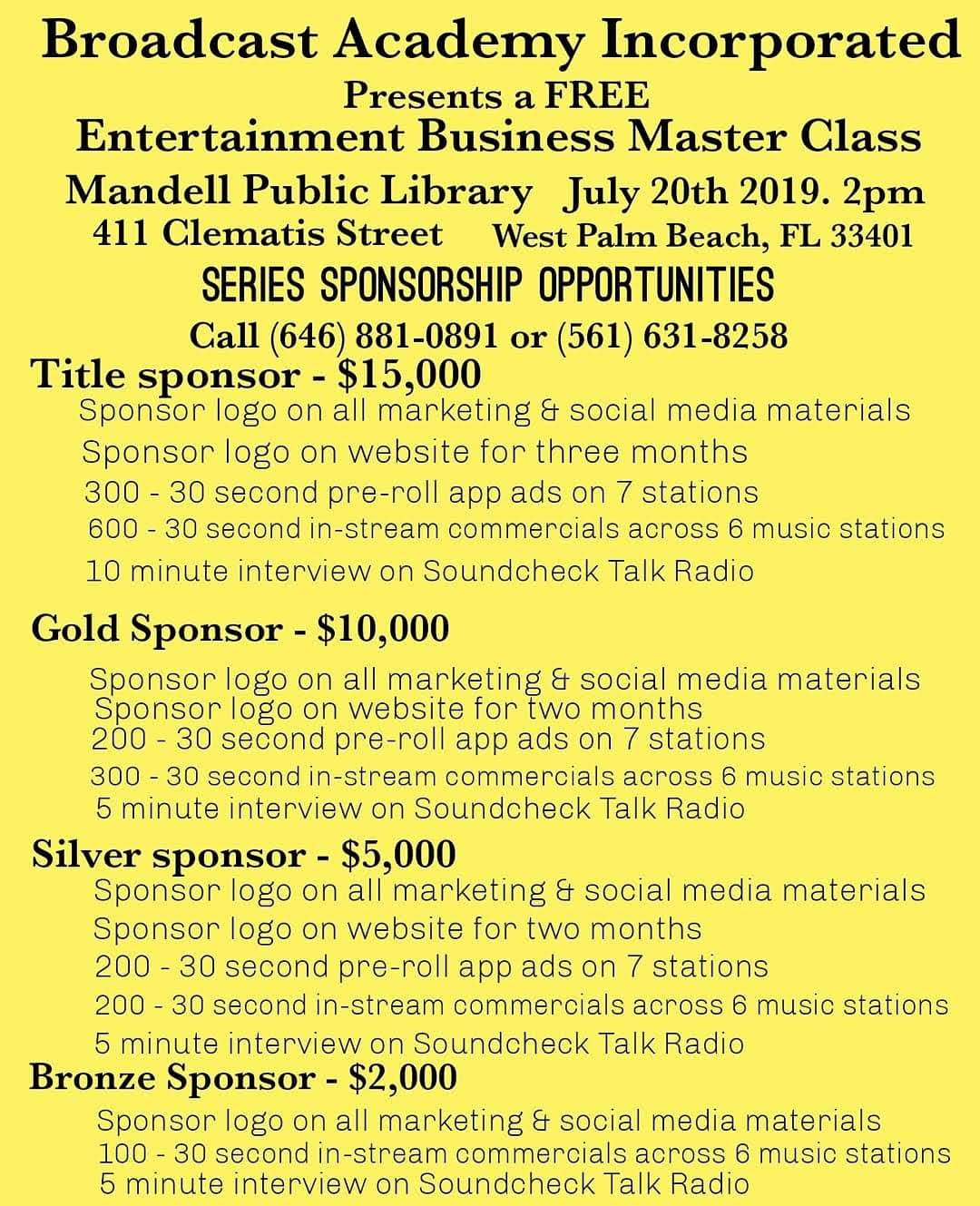 ---
Free Admission