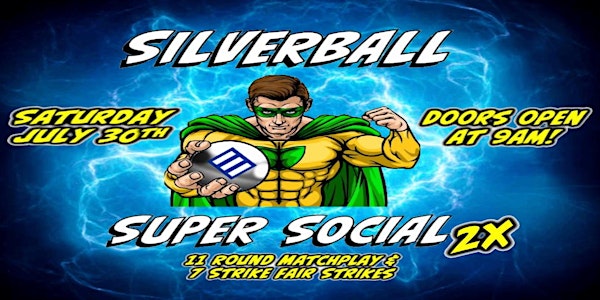 Enterrium and the Pinball Super League present: Silverball Super Social 2X
Location
Enterrium
2 Woodfield Mall
#Unit A
Schaumburg, IL 60173
Refund policy
Refunds up to 7 days before event
Eventbrite's fee is nonrefundable.
It's time to take a break from the heat and activate your pinball superpowers for a shot at a pile of cash, trophies, and WPPRs!
About this event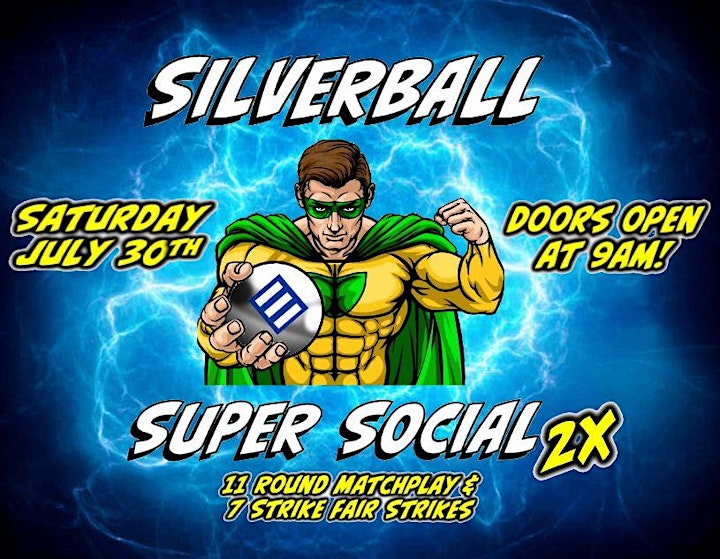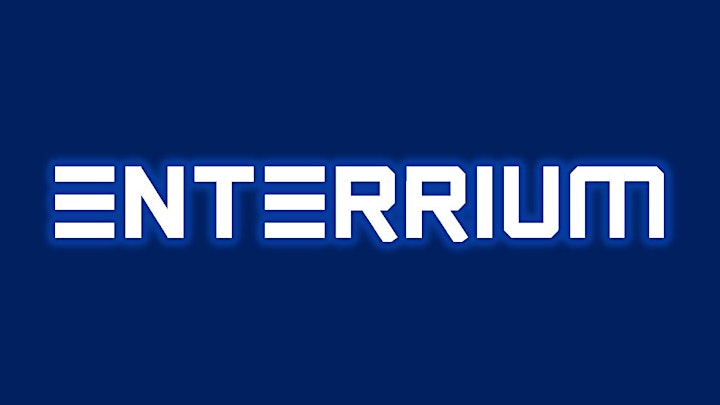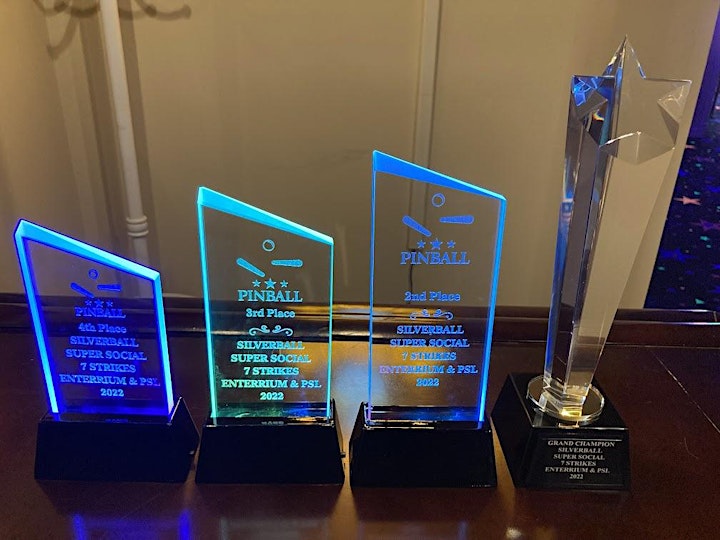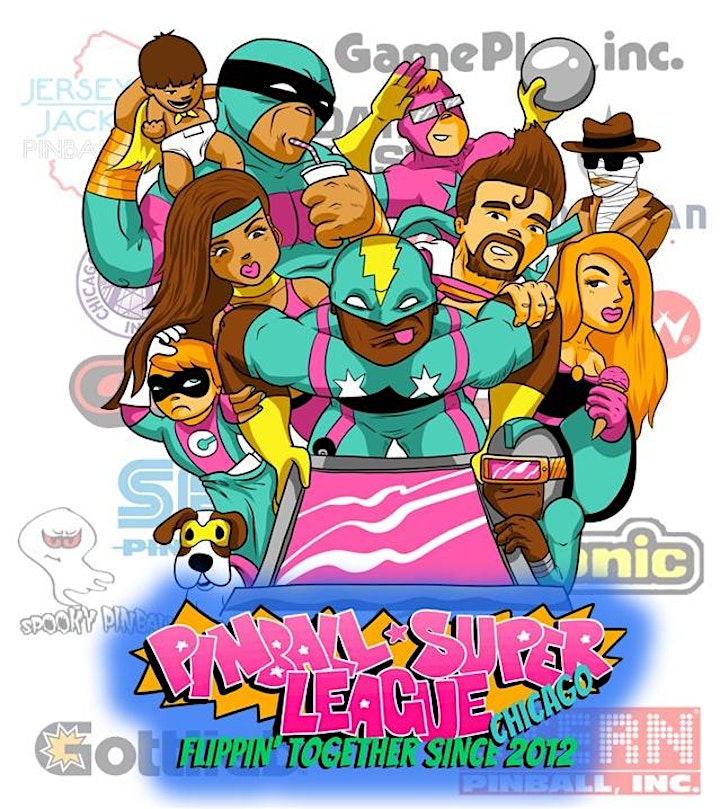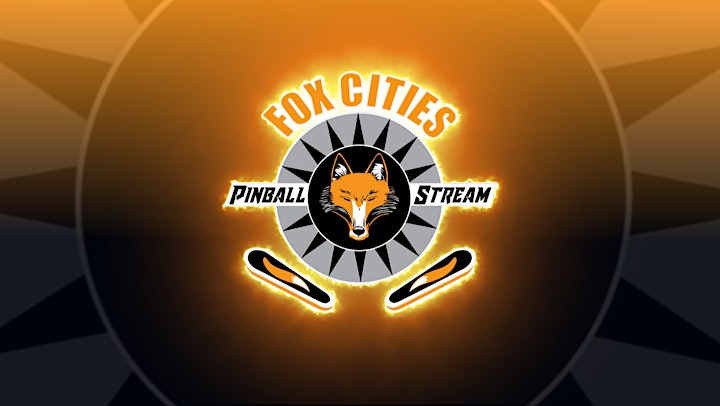 *Player cap increased to 72! Only a few slots left!*
It's (probably) too hot outside, so spend an entire day playing pinball from morning to night at Enterrium! The Pinball Super League will be hosting two separate tournaments with cash, trophies, and most importantly a whole pile of WPPRs on the line!
Live Stream:
Both tournaments will be live streamed on Twitch by Tom with Fox Cities Pinball Stream https://www.twitch.tv/foxcitiespinball
By participating in this tourney you agree to be filmed for Fox Cities Pinball stream. If we want to put the camera rig on your game in between balls you cannot refuse.
Tournament Directors:
Andy Bagwell: He's tall, he plays pinball, he's not even that good. He is a better 6'6" player than Jack Danger though.
Ray Leitzke: The master of social media marketing and image creation, and a pretty darn good pinballer to boot.
Josh Sharpe: Shadow Lord of the IFPA, tricked Andy into signing a contract that forced him to be state rep forever.
Zach Sharpe: Josh's brother.
Code of Conduct:
All players of our events agree to abide by the Chicagoland Pinball Code of Conduct. Full rules can be found here: http://sundaybest.kittensandwich.com/Chicagoland-Code-of-Conduct/
Pinball is for everyone, and we won't tolerate any bigotry or harassment of players. The silver ball doesn't discriminate, neither should players. If *anyone* makes you feel uncomfortable at our events we encourage you to speak to any tournament director either in person or online when you feel comfortable doing so. TDs are here to protect players and ensure they have a fun and safe space to enjoy pinball.
Tournament Details:
Silverball Super Social 2X
Over $4,000 in cash prizes!
Two tournaments in one day! We start off with a twelve round matchplay tiered swiss with no playoffs. A short break will follow and then we will start the 7 strike fair strikes swiss tourney. All pins will be on free play all day! Coin drop cost will instead be accounted for with ticket sales. Enterrium will also be adding an additional $500 per tournament to the prize pool!
Registration:
Advance registration is required for this tournament, walkups will not be allowed as the prize pool needs to be set prior to the day of the tourney. Purchasing a single ticket on this page will get you access to both tourneys on 7/30. There will be cash prizes for the top 8 players in each event, and trophies will be awarded to the top 4 players in each event. Players of all skill levels are welcome to participate!
Current player cap will be 72 players, there will be a waitlist and the player pool may be increased if we can get additional pinball machines before the event. Some slots will be reserved for those assisting with the tourney. You are able to purchase up to 5 tickets in a single order, you will have to fill out unique player info for every ticket you buy. Ticket sales will go live here on Eventbrite on this page on Friday, 6/24 at 10am CST. Players will be able to requests a full refund minus Eventbrite fees up to 1 week out from the event. After that no refunds! Ticket sales will close at noon on Friday, 7/29. If you need help registering please feel free to reach out to Andy or Ray online or in person for assistance.
Formats:
SSS Event #1: Twelve(the matchplay formerly known as Eleven) Round Matchplay
Players will compete against each other in four or three player groups across all machines at Enterrium. There will be twelve total rounds with no playoffs. Tiebreakers for top 8 positions after the twelve rounds will be a single randomly chosen game only if there is a monetary difference in the tie. Positions 5-8 will all receive the same payout so automated tiebreakers will sort those, as well as anyone that finishes out of the money. Seeding is tiered swiss. Tiered swiss means that players will be paired against players with the same win-loss record in increasingly smaller tiers. The final round will be 1-2-3-4 seeding all the way down. No attempts are made to match players who have not faced each other. Points each round will be awarded in the 7/5/3/1 format for 1st/2nd/3rd/4th. In case of a three player game points will be awarded 7/4/1.
SSS Event #2: Seven Strikes Fair Strikes
Players will compete against each other in four or three player groups across all machines at Enterrium. Each player starts with 0 strikes, with the goal being to be the last remaining player that has not reached 7 strikes. Seeding is swiss. Swiss means that players will always be paired against players with similar amounts of strikes when possible. Fair strikes format awards strikes in the 0/1/1/2 format. This means that only first place gets no strikes, 2nd and 3rd receive one strike and 4th place receives two strikes. In case of a three player group strikes will be awarded 0/1/2. In case of a two player group strikes will be awarded 0/2.
Matchplay Software:
The tourneys will both be hosted on the Matchplay software. This will be displayed on a big screen near the tourney area or you can access it on your phone by browsing to matchplay.events or just googling "matchplay". Once there you can search "silverball super social" and you will see it in the results. You will be able to see what game you are playing each round and the position you are in. If you need any help just ask a TD. Once a group finishes for the round you can go enter your finishing results on the laptop near the tourney area.
Game Rules:
Andy is the rulemaster. He was trained for months in the Russian wilderness by IFPA Dictator Josh Sharpe to make the games play faster and less fun than the developers intended. Ball saves will be turned off on the plunge, Extra Balls will be disabled, and tournament settings will be on. Some post rubbers may get lost. Someone might steal the center post on Spiderman, only Andy knows. If you receive a ball save then *do* play it, some games have skillshots that turn them on or lack of playfield validation. If you receive an Extra Ball somehow *do* play it, and please let the TDs know that you received one so we can try and disable it before the next round. You *will not be punished for playing an Extra Ball*.
Schedule:
Saturday July 30th, 2022
9:00am CST Enterrium opens for warmup and registration
10:00am CST Event #1 Matchplay begins
~5:30pm CST Event #1 Trophy Presentation
30 Minute Break
~6:00pm CST Event #2 7 Strikes Fair Strikes begins
~Midnight CST Event #2 Trophy Presentation
Fees:
Event fee is $75
$17 per player goes towards coin drop
$6 per player goes towards trophy fees
$2 per player goes towards IFPA fees
$50 per player goes towards the prize pool
$0 per player goes towards the TDs
Prizes:
Top 8 Players in each of the two tourneys will receive payouts, prize totals are calculated assuming 60 players.
Enterrium is sponsoring an additional $500 per tourney that is being added directly to the prize pools and split evenly across all paying spots! This brings the prize money for each tourney to at least $2,000!!!
Cash Prizes for 1st-8th
1st 35% ($700)
2nd 20% ($400)
3rd 15% ($300)
4th 10% ($200)
5th-8th 5% each ($100)
We will also be paying out a $100 prize for the highest placing player in each tourney that is IFPA rank 2500th or lower!
Trophies or Plaques for Top 4
Prizes awarded by Tournament Director are final and cannot be disputed after the tournament for any reason.
Location:
Enterrium
2 Woodfield Mall Unit A, Schaumburg, IL 60173
Your GPS may take you to the incorrect mall entrance, but if you circle the main road that goes around the mall you should eventually see the big Enterrium sign. You can also park anywhere and enter the mall, then head for the food court. Enterrium's entrance is in the back of the food court, but be aware this entrance will close once the mall closes so we suggest that you circle the mall until you locate the dedicated Enterrium entrance.
Food and Drink Specials:
This ain't a Dave and Busters! Enterrium has *delicious food* prepared by their in house chef and a great range of drinks! They will be doing six dollar bar appetizers, five dollar pizzas, bottle beer bucket specials, and possibly more....so come hungry and thirsty!