Description
In May's Merge Collective, we will take a deep dive into the world of enterprise design. Our speakers will examine the unique challenges and opportunities presented by design for enterprise customers and inside of big enterprises! We'll have an opportunity to compare different design processes and explore the reality of designers' everyday life.
Speakers:
– Angelique Lang, Lead Experience Designer at Panasonic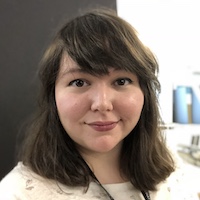 Angel has spent the last 7 years in UX design at startups and large corporations alike. Working with advanced engineering groups, Angel has delivered cutting edge interaction designs around Robotics, Autonomous Systems and AI conversational systems.
At Panasonic Angel founded HomeX in 2017, a new organization to design the future home experience originating from such technologies. Concurrently she is also head of customer experience design at Panasonic Beta focusing on redefining global design and collaboration policies of Panasonic and on building tools to unify design processes across Panasonic's many business units.
Angel's goal is to create systems that can interact and engage on a human level, solving user-centered problems and improving life by design.
– Daniel Castro, Design Director at Sumo Logic
A seasoned UX professional of over 18 years in strategic, operational, and product design leadership. My background in engineering and education in art allows me to bridge the gap between technology and design with a creative yet feasible approach. I have a proven track record of leading cross-functional projects and teams that result in a strong UX culture across the organization. My designs have been featured in Parenting Magazine, winning the 2015 CES Innovation Award in "Better World", and being presented in Keynote speeches as a market differentiator in ease of use.
– Satyam Kantamneni, Chief eXperience Officer, UX Reactor
Satyam has been launching products and building design teams for over two decades. In his career, he has worked for world leading companies like Paypal, Citrix, Fidelity Financial Services, and Siemens. While at Paypal, he was instrumental in creating their Global Design Center and at Citrix, he was a founding member of the Citrix Design Group in California.


---
Schedule:
5:30pm - 6:30pm: Doors open; networking, dinner and drinks
6:30pm - 8:30: Brief UXPin demo, speaker presentations, panel discussion and Q&A
---
About Merge Collective:
At Merge, design and engineering are treated as two inseparable parts of the singular process of software development. This is the space where we can meet, connect, discuss and learn- where we're not afraid to question the status quo and rethink the very foundation of our industry.
Space is very limited so sign up quickly! Also, if you can no longer attend, please change your RSVP so that others can join us.
Have a Merge punch card to receive rewards and access to special events? Don't forget to bring it with you!
---
Parking:
There is plenty of parking available in the lot off Oak street next to the Passage to India Bakery. Alternatively, you can park on the street at Oak St or High School Way by Eagle Park.