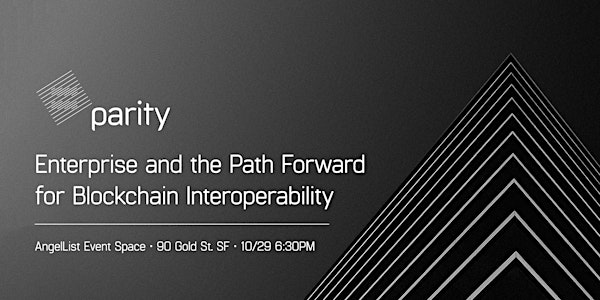 Enterprise and the Path Forward for Blockchain Interoperability
Privacy, permissioning, throughput, scalability - one single blockchain cannot solve all use cases, especially for enterprises.
When and where
Location
AngelList 90 Gold Street San Francisco, CA 94133
About this event
We need use-case specific blockchains that can be optimised for specific needs. However, creating multiple, separate blockchains also introduces data silos, which we intended to get rid of in the first place. Polkadot enables these use-case optimised blockchains to interoperate with each other, helping us create a more connected yet decentralised ecosystem.
Join Parity Technologies for a discussion about the future of blockchain interoperability and enterprise decentralized solutions.
Speakers:
Fabi Gompf, VP of Partnerships, Parity Technologies
Fabian Gompf is the Vice President of Technology Partnerships at Parity Technologies. Parity is a research and development focused company with 100+ team members working on the software that underpins blockchain networks.
Eliott Teissonniere, Blockchain Architect, Nodle.io
Eliott Teissonniere is a Blockchain expert. He became the CTO of BITNATION in 2017 and lead the development of smart contract based multiple governance tools. After leaving the company in September 2017 he developed the world's first marriage smart contract on Ethereum, allowing people to get married on the blockchain for the first time. He then established itself as an independent contractor and worked on multiple projects including the creation of a Universal Basic Income platform for cities in the Middle West and a decentralized reputation platform. He joined Nodle in 2018 as a Blockchain Architect and is now leading the conception of Nodle's decentralized architecture.
Fred Jin, Founder, Cere Network
Fred is the founder of Cere.Network, a new blockchain CRM ecosystem. Fred previously co-founded social gaming company 50 Cubes, which was a Tencent backed startup in San Francisco with 8-digit rev. Fred also led the development of Bebo's media platform, which was a pivotal feature that led to AOL's $1B acquisition of the early social network. Fred has over 20 years of startup experience in Silicon Valley having held key product and engineering roles spanning gaming, media, enterprise, and distributed networks.
Nick de la Forge, Investor Relations & Business Development, Kilt Protocol
As a trained industrial engineer, Nick provides a strong understanding of technological feasibility while being able to identify compelling business opportunities for DLT in different verticals. Prior to supporting KILT as Investor Relations & Business Development Manager, Nick worked at Earlybird Venture Capital and XAIN. He has always been driven by industry requirements and is funneling these needs into the decentralized ecosystem to drive adoption.
Moderator:
Valeria Kholostenko Global Partnerships and Strategic Initiatives, Parity Technologies
Silicon Valley startup vet turned decentralization activist. Valeria is always one-half heads-down, forming partnerships and deploying blockchain projects, other half heads-up, educating the public, fielding questions, and looking for inspiring organizations that stand to benefit most from blockchain technology. Routinely crossing time zones, helping organizations across the world and from all sectors understand how blockchain is lifting up the hood on our outdated systems and signaling a way forward.
This event is organized by Parity Technologies.
Sign up for our newsletter for updates on Parity: 
https://www.parity.io/newsletter/
Follow us on Twitter: 
https://twitter.com/ParityTech
Parity Technologies events privacy notice: