Description
CLIVE DAVIS INSTITUTE OF RECORDED MUSIC & WOMEN IN MUSIC PRESENTS:
Entering The Music Industry:

A Fireside Chat with Sophia Chang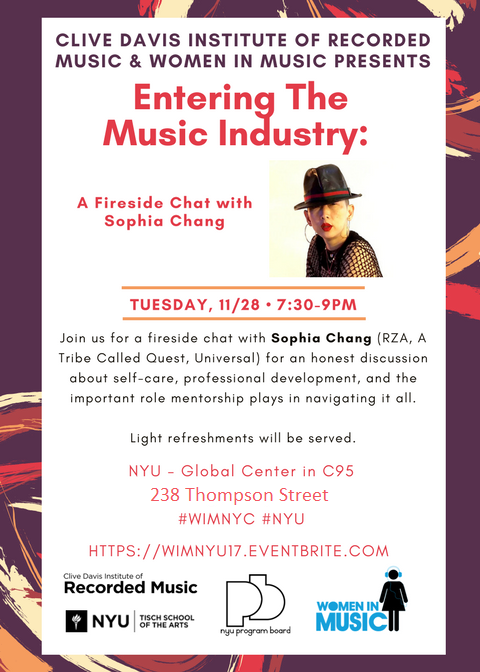 Please join Women in Music and NYU's Clive Davis Institute in welcoming the dynamic multi-hyphenate Sophia Chang as she speaks about the importance of mentorship and forging one's path in the music industry despite the myriad obstacles. Sophia's lengthy resume includes doing A&R at Jive, managing members of the Wu-Tang Clan, Q Tip, A Tribe Called Quest, Raphael Saadiq, and D'Angelo, heading A&R Administration and Operations at UMG, running a Shaolin Temple, producing major fashion shows, writing a screenplay, and doing biz dev for a cannabis company. She is currently writing a memoir and just sold a show to CBS. In addition to sharing her illustrious journey, she will engage in a discussion about the importance of mentorship with her mentee Alyssa Castiglia, an A&R at Island Records.

Light refreshments will be served.
About Sophia Chang:

Sophia Chang is a music business matriarch who worked with Paul Simon and managed ODB, RZA, GZA, Q Tip, A Tribe Called Quest, Raphael Saadiq, and D'Angelo. Her record company experience includes marketing at Atlantic, A&R at Jive, and in 2014 she headed A&R Admin and Operations at Universal. In 1995 Sophia left the music business to manage her then partner's USA Shaolin Temple and have two children. During her time in fashion she produced runway shows for Vivienne Tam and"Project Runway All Stars." She was also an account executive at digital agency Sarkissian Mason. She sold a screenplay which she sold to HBO and has developed other film and TV properties. Most recently she has joined the business development team at MedMen where she will build authentic partnerships between talent and cannabis.
DATE/TIME
Tuesday, November 28, 2017 from 7:30pm-9:00pm

LOCATION:
NYU's Clive Davis Institute
238 Thompson Street - Global Center C95
New York, NY