Entering the Heart of Practice with Ayya Anandabodhi and Ayya Santacitta

Wednesday, May 3, 2017 at 3:00 PM

-

Sunday, May 7, 2017 at 11:00 AM (PDT)
Event Details
This Residential Retreat
At the heart of practice is the union of wisdom and compassion, cultivated through mindfulness and a skillful response to life. Through developing the qualities of the heart and seeing clearly, we can more easily know and let go of our habitual attachments and reactions, making peace with life as it is.
We will create a monastic environment during our time together, offering this opportunity to explore the Dharma in a setting that differs somewhat from a typical meditation retreat.
In the spirit of the monastic lifestyle, we will be following the Eight Precepts (or Seven Precepts for those who wish to have a light dinner), taking only what is offered, participating in the daily routine mindfully and with awareness, and reflecting on our every activity as part of our practice. This will include Noble Silence, morning and evening chanting, sitting and walking meditation, simple ritual and daily Dharma teachings. There will be opportunities for interviews along with Q&A during the retreat. An optional period of movement will be offered daily.

When registering,  yogis can choose between 
8 precepts
 (with so called 'monastic allowables'* for the evening) and 7 precepts (not taking the 6th precept and having a light supper, such as soup, salad, bread).
*'monastic allowables' are: tea, soymilk, cheese, dark chocolate, crystallized ginger, miso, clear fruit juice ~ 
Registration Fee -

Deadline to Register is April 19th
Cost:
Supporting (paying to support the cost of the retreat to SBMG and support scholarships) -- $465
Sustaining  (paying for the retreat at cost) -- $400
Supported (paying slightly below cost) -- $365
Choose the highest level of the sliding scale that you can afford. This allows others who need to pay less the opportunity to attend. Any amount paid above the base level retreat ($400) fee is a tax deductible donation to SBMG.
Scholarships:
If none of these tiers work for you, there are opportunities to apply for a scholarship.  Please click here to fill out our scholarship application
Scholarship applications are

DUE on February 27, 2017
Retreat Details
Please note that this retreat is limited to 65 retreatants.
There is no guarantee of a single room.  One of the residence buildings, Oak Hall, is a LEED-certified building, has 12 rooms (6 rooms per floor), with one floor dedicated for men and one for women.  This building absolutely requires a roommate. 
The Jesuit Center offers vegetarian food.
Dana (generosity):
 Your teachers and staff for this retreat are paid only through your donations. The registration fee below only covers accommodations, meals, and certain administrative expenses. At the end of the retreat, please share generously so that these kinds of events can continue in the future and your teachers can be well supported in their livelihoods.
Ayya Santacitta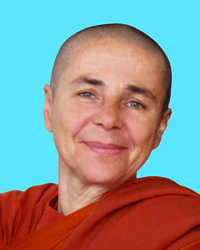 Ayya Santacitta was born in Austria and has a multifaceted background in hotel management, cultural anthropology and avant-garde dance theatre. Her first teacher was Ajahn Buddhadasa, who sparked her interest in Buddhist monastic life. She has practiced meditation for over 25 years and trained as a nun in both the East and West since 1993, primarily in the lineage of Ajahn Chah. Since meeting Shechen Rabjam Rinpoche in 2002, she also integrates Dzogchen teachings into her practice.
Ayya Santacitta is co-founder of Aloka Vihara, where she resides since 2009 and received bhikkhuni ordination in 2011. She is particularly interested in learning from nature and bringing faith traditions to the climate movement.
Ayya Anandabodhi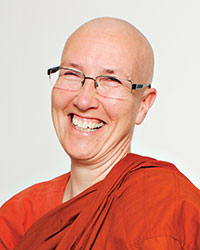 Ayya Anandabodhi first encountered the Buddha's teachings in her early teens, igniting a deep interest in the Buddha's Path of Awakening. She lived and trained as a nun in the Forest Tradition at Amaravati and Chithurst monasteries in England from 1992 until 2009, when she moved to the US to help establish Aloka Vihara, a training monastery for women.
Her practice and teaching are guided by early Buddhist scriptures and through nature's pure and immediate Dhamma. In 2011 she took full Bhikkhuni Ordination, joining the growing number of women who are reclaiming this path given by the Buddha.

Registrar Contact Information
For all information about financial aid, payment plans, contact information, or registering directly via email, please contact registrar Angela Scarlett at angela.scarlett@gmail.com or 916-612-8442.
SBMG is a 501(c)3 non-profit organization.
When & Where

Jesuit Retreat Center of the Sierra
1001 Boole Rd
Applegate, CA 95703


Wednesday, May 3, 2017 at 3:00 PM

-

Sunday, May 7, 2017 at 11:00 AM (PDT)
Add to my calendar
Organizer
"Spiritual friendship is Sangha." Miriam Davis,1998 Facilitator
Mission
Sacramento Buddhist Meditation Group is a peer-guided spiritual community (sangha) offering a place of inspiration, refuge and stability for the cultivation of mindfulness and compassion. We welcome people to a sangha that embraces diversity of members and Buddhist traditions.
Description
Our Intention
We seek to foster peace, wisdom and compassion in ourselves and in the world around us.

Our Intention
We seek to reduce suffering for ourselves and for all beings.
We seek to provide a place of refuge and stability for the cultivation of mindfulness.
Our Practice
The Sacramento Buddhist Meditation Group was formed in January, 1991 as a service to the Sacramento community. Our purpose is to create and sustain a spiritual community (Sangha) and to serve the Sangha by introducing and supporting meditation practice. We provide opportunities to meet and work with trained Dharma teachers who offer a range of Buddhist practices and ideas.
Our central activity is a Sunday evening gathering which consists of a 40-minute silent meditation period followed by a talk by a visiting teacher or a Sangha member. It is our intention that presentations by Sangha members be based on their experience as students of meditation. We also regularly sponsor one-day meditation retreats.
All Sangha activities are sustained through the practice of generosity (dana).
It is our ongoing intention to build a community which is safe, open, wholesome and healing in tone and which is democratic and non-hierarchical in structure. Sangha activities are organized by a Board and various committees whose monthly meetings are open for participation or observation to anyone in the Sangha.