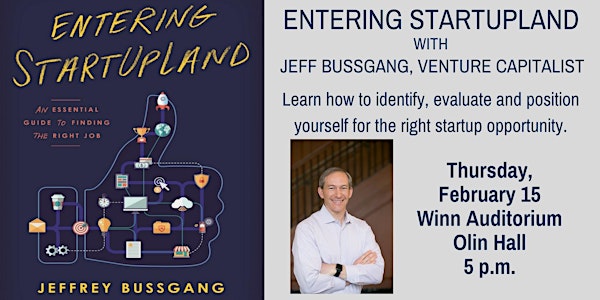 Entering StartupLand with Jeff Bussgang, Venture Capitalist
Location
Babson College
Winn Auditorium
231 Forest Street
Babson Park, MA 02457
Description
Venture capitalist and Harvard Business School professor, Jeff Bussgang, will share insights from his new book, Entering StartUpLand. The book is a practical, step-by-step guide that provides an insider's analysis of various startup roles and responsibilities to help you figure out if you want to join a startup and what to expect if you do. Bussgang will lay out a methodology to help you identify, evaluate and position yourself to find the startup opportunity that's right for you.
Bussgang's VC firm, Flybridge Capital Partners, has made investments in over 100 technology-focused startups since inception fifteen years ago and over $600 million under management. Prior to becoming a venture capitalist, Bussgang was an entrepreneur—serving as cofounder and president of Upromise (acquired by Sallie Mae) and an executive team member at Open Market (IPO 1996). Bussgang was named one of the 21 most powerful people in Boston by Boston Magazine. Bussgang was also named to the Boston Business Journal Power 50 representing the 50 most powerful business people in the Boston area.
Open to Babson, Olin Engineering, Wellesley College students and Babson alumni.