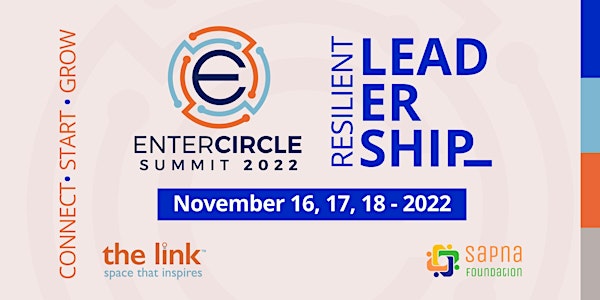 EnterCIRCLE 2022
Collaborate with fellow entrepreneurs, learn from successful business professionals, ignite creativity, spark ideas, and opportunities.
When and where
Location
the link 425 Town Plaza Avenue Ponte Vedra Beach, FL 32081
About this event
After the successful launch of EnterCircle 2021, we are bringing back EnterCircle 2022
What to Expect
Each day will be packed with engaging workshops, panel discussions and interactive modules for entrepreneurs seeking to spark ideas and make connections within segmented groups.
Day 1, November 16, 2022 Youth Symposium (Ages 17 - 25)
Focused on cultivating the minds of our area's youth, students from local schools, colleges, and universities will have an opportunity to gain knowledge from successful business leaders, participate in discussions and gain insights into possibilities that exist locally, nationally and globally.
Key features of the day include:
• St. Johns County School District innovation projects• Interaction with diverse student populations through structured field trips• Financial literacy training session• International business panel discussion• Leadership resiliency talk - How to position yourself as a leader in the era of information and social media.
Day 2, November 17, 2022 Startups/ Small Business Day
This interactive event will help guide the way through the intricate pathways of business & entrepreneurship. For-profit and non-profit organizations will discuss challenges, advancements, innovative solutions, and resilient leadership in starting and sustaining businesses. A highlight of the day will be a structured business pitch process for budding entrepreneurs and startup founders.• Panel Discussions • Workshops • Breakout Sessions • Pitch Competition • VIP Networking • Business Showcase • Business Day.
Day 3, November 18, 2022 Women's Entrepreneurship Day
Focused on the challenges of women in leadership, the event will cover entrepreneurship, politics, and successfully overcoming COVID-19's impact in the workplace.
Speakers and workshops will concentrate on linking together and encouraging more women to join in the conversation, share experiences, and create long lasting connections.
•Panel Discussions: Women in Politics• Wellness Workshops• Breakout Sessions - SBA and woman-owned business certification information - Mental health.
• VIP Networking • Business Expo
Who will be in attendance: Startup founders, corporate executives, budding entrepreneurs from area schools and colleges, elected officials, city and government officials and leaders of influence in the business and entrepreneurial community of North Florida.
more info / EnterCIRCLE2022.zone