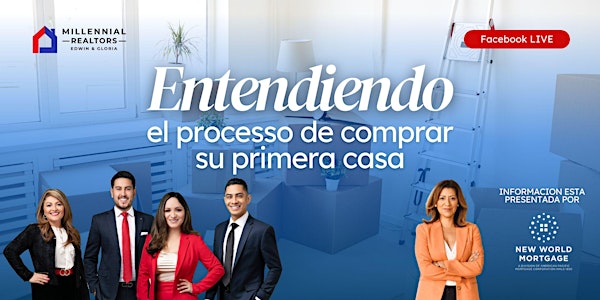 Ententiendo el Processo de Comprar su Primera Casa
¡TU VIAJE COMIENZA AQUÍ! ¡VEN Y OBTÉN EDUCACIÓN EN BIENES RAÍCES Y PREPÁRATE PARA SER DUEÑO DE TU PROPIA CASA!
About this event
About this event
REGISTER to learn how you can become a Homeowner today!
Saturday Oct. 15, 2022 @ 10 AM
GRATIS Seminario de Primer Compradores
El propósito de este seminario es educar a la comunidad sobre cómo comprar con los Down Payment Programs. Conozca qué opciones están disponibles para los compradores de vivienda por primera vez y el proceso de la experiencia de compra de una vivienda. Permítanos ayudarlo a prepararse sobre los pasos que debe seguir.
Regístrese hoy
Lo que cubriremos:
Requisitos para calificar.
Asistencia para el pago inicial
Programas de subvenciones
Programas 100% Financiamiento
¿Cuánto dinero necesitas para comprar una casa?
Diferentes tipos de préstamos
Qué hacer y qué no hacer al solicitar una hipoteca
Pasos para comprar una casa
Por qué es importante una aprobación previa
Conozca las Inspecciones
Más..
VENDEDORES: ¿ESTÁN PENSANDO EN ACTUALIZAR A UNA CASA MÁS GRANDE O POSIBLEMENTE REUBICARSE?
¡Este evento también es para ti!
INVERSORES: PENSANDO EN TENER SUS PROPIAS UNIDADES
Ven a nuestro SEMINARIO GRATUITO presentado por:
Millennial Realtors y New World Mortgage
-------------------------------------------------------------------------------
**Service Disclaimer: These seminars are solely for educating the customer (buyers & sellers) about the market, programs available and the home buying process; these events are not available for agents/brokers to attend.