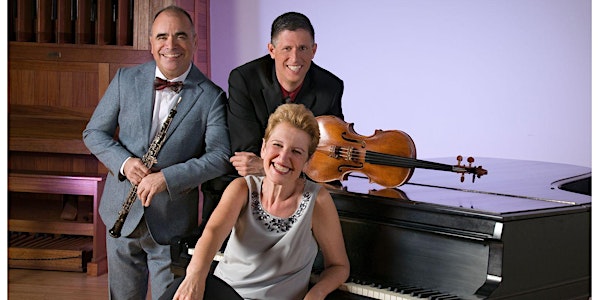 Ensemble Schumann: Affairs of the Heart (Augmented Reality Concert)
Ensemble Schumann (Sally Pinkas, piano; Tom Gallant, oboe; Steve Larson, viola) perform stirring works by Schumann, Bruch, Herz and more.
By West Claremont Center for Music and the Arts
Date and time
November 6, 2020 · 3:30pm - November 8, 2020 · 2:30pm PST
Refund Policy
Contact the organizer to request a refund.
Eventbrite's fee is nonrefundable.
About this event
Ensemble Schumann join us "at" WCCMA's home at Union Episcopal Church in the fall foliage, where Sally Pinkas, piano; Tom Gallant, oboe; Steve Larson, viola perform on this exciting digital platform. Ensemble Schumann perform stirring works by Schumann, Bruch, and Herzogenberg. Also included is a very special encore of Bach's 'Jesu, Joy of Man's Desiring', arranged by Entwistle for the trio - and including an introduction by the composer. You'll have access to the performance for 48 hours to watch and re-watch.
Join the artists after the premiere for a Zoom chat at 8pm Eastern Time.
This program will be presented in Augmented Reality from your smart device. The artist "holograms" will be projected onto a 360 degree image outside of WCCMA's concert hall. You'll be able to look around the space, move closer, etc, just as though you are there.
For those without supported devices you'll be able to join us via Youtube video link. Headphones are strongly recommended for optimal audio experience.
This event is presented by West Claremont Center for Music and the Arts. Concert tickets are by donation. Our suggested contribution is $25 ($15 for WCCMA members), $40 for a family. Student tickets are free, and scholarships are available to anyone by request. Please fill out this form to request a student or scholarship ticket: https://forms.gle/kCQNxrYShgLtkrWUA
By registering for this event you will receive the link to access the concert, access to a tutorial to test set up on your device, and the link to the zoom post-concert chat. This concert will be available for 2 days after airing. We suggest you test your device a day or 2 in advance to ensure you have no technical challenges at concert time.
For more details about virtual concerts please visit: www.wcc-ma.org/virtualconcerts
Stay Tuned for more Augmented Reality Concerts this fall from WCCMA!
Hoverlay mobile app is supported on mobile devices that support either ARKit (iPhone 6s and above; full list at the bottom of this page: https://www.apple.com/ios/augmented-reality/) or ARCore (https://developers.google.com/ar/discover/supported-devices).
_______________
More about the program:
"Affairs of the Heart" – Romantic Trios for Oboe, Viola, and Piano
Unique to Ensemble Schumann is the striking individuality of each of our three instruments, melded into one warm and compelling voice. Many of the works we present were written initially for other instruments, and much of our repertoire comes from the heart of 19th century Europe, where colorful textures, dramatic expres- sion and effusive emotion reigned—hence the title of our program!
We begin with music by our name-sake Robert Schumann, who had a soft spot for oboe and viola. 'Fairy Tales' Trio (actually for Clarinet or Violin, Viola and Piano) was premiered by Schumann's wife Clara, who re- ported his satisfaction with the work's 'höchst romantisch' sensibility. We follow with works by the younger Herzogenberg and Bruch, who were educated by musicians connected to Schumann's circle. Herzogenberg's Trio was written for Oboe, Horn and Piano in a classically-molded, 4-movement format beloved by his friend Brahms. Bruch's 8-movement cycle has become a staple of the Clarinet-Viola-Piano repertoire, though it ini- tially called for Harp as well (you'll hear its echoes in the ardent 'Romanian Melody'). For 19th century musi- cians, Bach's music was a beacon of human expression: we end with his serene 'Jesu Joy of Man's Desiring', introduced by Erik Entwistle (who arranged it for us) from beautiful Sanibel Island, FL.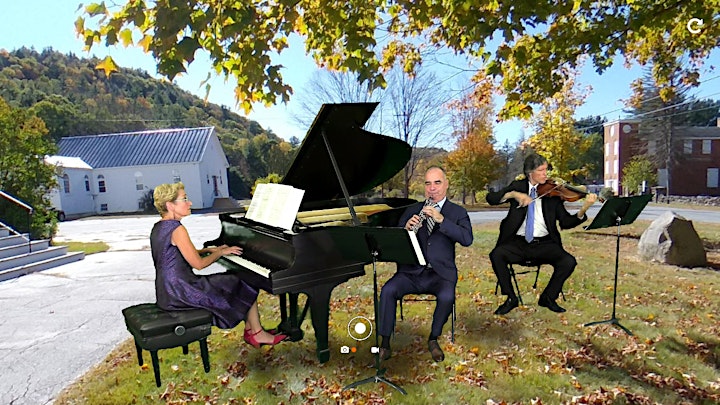 About the organizer
WCCMA was founded in 2008 as the Summer Concert Series at Union Church as an organization presenting outstanding musical performers. In the fall of 2011 SCSUC official adopted the identity of the West Claremont Center for Music and the Arts and expanded to include music and arts programs. Workshops are available in a variety of disciplines, and are offered for the general public and/or youth. We are committed to improving access to the arts by offering programs with no admission charge so that no one is excluded from participating based on financial factors.
WCCMA provides professional perfomances and arts education; much of it with admission by optional donation. Programs are offered for youth and the general public of all experience levels.