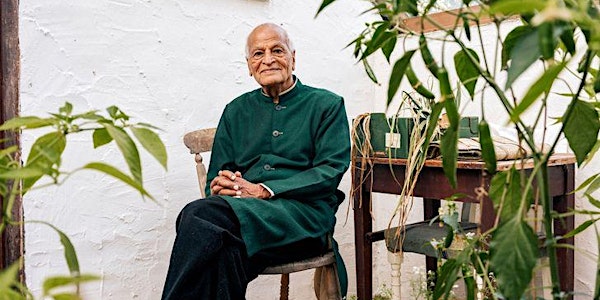 Ensemble, régénérons notre leadership pour répondre aux défis 2022
Rencontre créative & conviviale pour prendre soin de notre leadership en 2022, entre acteurs engagés, autour de Satish Kumar.
Refund Policy
Contact the organizer to request a refund.
Eventbrite's fee is nonrefundable.
About this event
En résumé : Plusieurs organisations engagées dans la transition écologique se réunissent autour de Satish Kumar pour vous proposer un temps cadeau avant Noël. Nos compétences et notre énergie ont été largement mobilisées en 2021 : continuons à prendre soin de notre leadership en 2022. Rejoignez un atelier d'intelligence collective, avec d'autres acteurs de changement, pour partager visions inspirantes & dynamiques de groupe.
Sur ZOOM, de 14h à 18h (avec possibilité de venir uniquement de 15h30 à 17h pour la partie conférence interactive).
----
L'année 2021 se termine. Avec son lot de rebondissements, de réalisations, de passages étroits et de frustrations sans doute aussi, elle est métissée d'épisodes où se sont conjugués forcément à la fois notre capacité à "tenir bon" et un inévitable déséquilibre. Nous rentrons dans une décennie essentielle et nous sommes encore beaucoup à ajuster notre trajectoire. Alors comment envisager l'année qui vient, et qui s'annonce déjà particulièrement agitée ? Comment rester fidèles à ce qui compte pour nous, tout en régénérant nos engagements ? Comment continuer à déployer notre leadership au sein de nos organisations : écoute, discernement, amplitude de nos contributions, synergies avec d'autres ?
Nous sommes heureux de vous inviter pour un atelier d'intelligence collective autour de la proposition "Régénérons notre leadership pour répondre aux défis 2022". En présence de Satish Kumar, fondateur du Schumacher College, dans le Top 100 des leaders spirituels actuels (palmarès Watkins), nous explorerons les sagesses de l'écologie profonde. Cet atelier est ouvert à des entrepreneurs, innovateurs, investisseurs, activistes qui souhaitent mobiliser leurs talents au service de la transition écologique.
Nous nous appuierons notamment sur les approches du Travail qui Relie : après plusieurs séquences permettant de regarder nos sujets du moment à 360°, nous prendrons soin à ce que chacun puisse énergiser concrètement ses prochaines étapes pour son passage de 2021 à 2022.
Rendez-vous :
Vendredi 10 décembre, sur ZOOM,
de 14h à 18h, pour participer à tout l'atelier : faire le point sur 2021, ouvrir la voie à 2022 (plusieurs séquences créatives, inspirantes et concrètes)
ou 15h30 à 17h : pour la seule partie de conférence interactive.
>> Inscription via formulaire à tout ou partie de cette rencontre.
* Merci aux organisations partenaires qui feront venir plusieurs de leurs membres : Sync & Think avec l'Académie des Leaders, AFD Campus, Ashoka, Change Now, Co-Gitons, ESCP Blue Factory, Danone, Fertile, Fondation Lunt, G-Impacte, Hectar, La Fabrique d' Avenir, Leaders Eclairés, Les Echos Le Parisien, Makesense, MeetMyMama, MySezame, Nove Terra, Omie, On Purpose, OuiShare, Sh@sh, So Good, Switch Collective, Talent & Impact, Thae, Ticket for Change, Vendredi, Vlan Podcast, Wellbeing Project...
Pour rentrer votre code invitation, merci de suivre le déroulé ci-dessous (cliquer en haut à droite sur "ticket", puis rentrer votre code dans "code promo" en haut à droite, au-dessus de la liste des tickets. Bienvenue :)