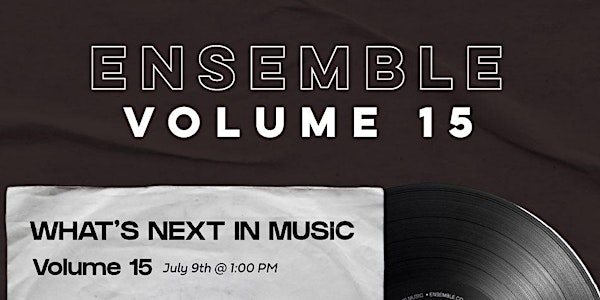 Ensemble 15: What's Next in Music
With our 15th Volume we're turning things up to 11 to bring you a boxed set of digital experiences as we explore the Future of Music.
About this event
REGISTRATION NOW OPEN!
Global music sales grew for the 6th consecutive year with total revenues topping $21.6 billion in 2020 with streaming asserting itself as the dominant medium for listening, growing revenue 18.5% last year alone and new players abound looking to appeal to everyone from audiophiles to the casual fan.
At the same time the industry continues to fine tune the live experience model while emerging from a pandemic where with groups of less 5 being permitted to gather in most of the world has put a damper on the concert scene to say the least.
Artists like Taylor Swift are redefining the conversation around rights while the search for new forms of revenue marches on unimpeded with players like TikTok emerging with a creator-centric strategy putting pressure on other digital content platforms while the specter of the blockchain and the vaunted NFT linger as a consumers decide if they'll define the industry of the future or be forgotten faster than a one hit wonder.
Join us as we deliver a Volume of conversations and connections to peel back the layers of a complex conversation about one of life's most simple pleasures.
Trust us - you're not going to want to skip any of these tracks.
Ensemble. You're part of something bigger