About this event
As we move past the 7 Billion mark in global population, the challenges and even moral dilemmas in the path to feeding everyone are only on the grow and the traditional agriculture industry alone doesn't seem to be the solution.
From the rise of "agriculture 4.0" to the sustainability demands being placed on our largest food processors by consumers, and from the work in the scientific community to build a "better meal" in a lab, to the efforts in developing nations simply to put a meal on the table and beyond, everything is in flux.
Of course with massive change comes important questions to consider, and as always, Ensemble has your back.
Can the recent promises of the fast food and  CPG industries to meet the demands of healthier and more sustainable diets be realized?
​Will we be able to find new ways to feed our growing population as climate change begins to significantly impact agriculture around the globe?
​Are "Beyond Meat" and their industry competitors truly a solution with people's best interest in mind or just a marketing ploy.​
Has the Canada Food Guide that we grew up with steered us wrong all these years?  
And is "GMO" still a 4 letter word in a world where it's becoming one of our most viable paths to global food sustainability?
To get your fill of impactful discussions of these questions and more, join us for our first Volume of a new decade as we explore one of the topics that will define our world for the next 10 years and beyond. 
We'll be sure to satisfy your hunger for thought provoking conversation and leave you full of opinions on this vital topic.
Volume 11 Speakers:
Oksana Andreiuk, CANADIAN BIOHACKER
Justin Bell, ORGANIC FARMER AND AGRICULTURE ACCOUNT MANAGER, TD
Kelly Graham, GLOBAL HEAD OF MARKETING, RITUAL
Michelle Jaelin, MEDIA REGISTERED DIETITIAN, NUTRITION ARTIST
Nick Rose, FREELANCE WRITER & JOURNALIST
Mercedes Unwin, SENIOR PROGRAM & RESOURCE MANAGER, AGSCAPE
Chef Jordan Wagman, CHEF and AUTHOR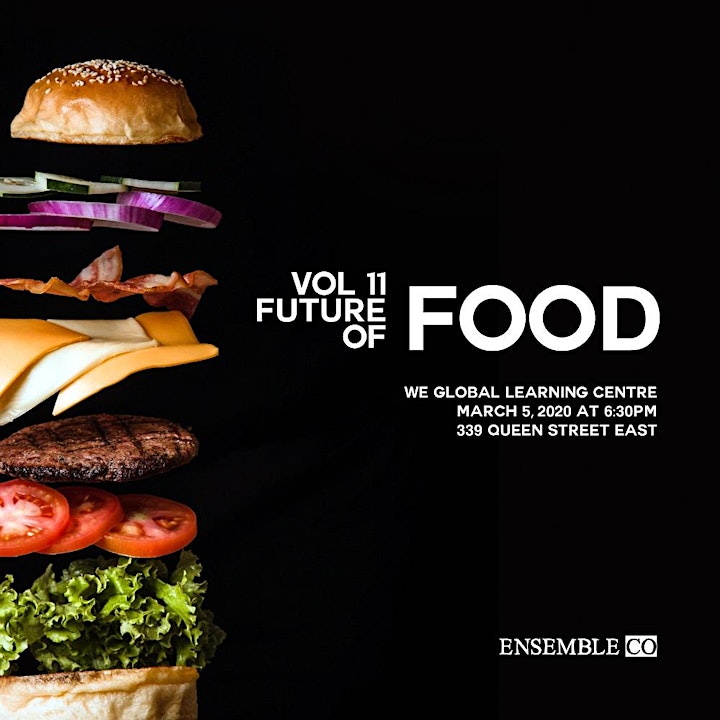 Organizer of Ensemble 11: The Future of Food
INTIMATE CROWDS. TRENDING TOPICS. EXPERIENCE DRIVEN.
EnsembleCo creates learning experiences for the Next Generation of Leaders, Thinkers, Creatives, and Entrepreneurs looking to learn and grow.
So how do we do it?
With humble beginnings on a west-end rooftop in 2013, Ensemble started with the vision of bringing executive-level learning experiences to younger, emerging leaders and entrepreneurs at a fraction of the price.
Through the help of countless partners and collaborators, Ensemble has grown from a kitchen table concept to a real-world community, engaging audiences in live and digital settings across North America.
We identify what's not working with marketing events – and fill in the holes with valuable content and experiences with audiences in mind.
We build each event into a "Volume": a digital and social themed experience.
We welcome all emerging tastemakers, thought leaders, marketers and future business professionals to join the Ensemble.
And we don't take ourselves too seriously.