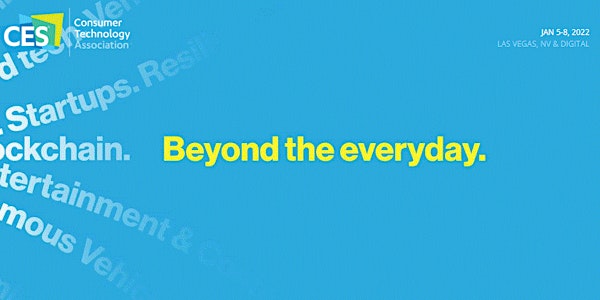 ENRICH FUNDING SUMMIT Post-CES 2022
Deep Tech European startups pitching to US investment/incubation/acceleration ecosystems (research universities' included)
Refund Policy
Contact the organizer to request a refund.
Eventbrite's fee is nonrefundable.
About this event
Date/Time: February 4, 2022, 8:00 am - 11:00 am PST
---
Location: On Zoom
Updated Zoom link:
PLEASE register in advance for this meeting:
https://temple.zoom.us/meeting/register/tJcvc-iurD0pGNZpUzgUhuUb5CClgPCp1uSF
After registering, you will receive a confirmation email containing information about joining the meeting.
---
ENRICH in the USA is proud to present its Funding Summit post-CES 2022. This virtual event introduced a selection of 16 European and Associated Countries startups to 25+ top judges, including US investors (early-stage VCs, business angels, and equity accelerators) plus a selection of ENRICH in the USA soft landing hubs and ecosystems.
Prizes:
The participants of the ENRICH Funding Summit pitch competition will able to win the following:
→ For the top startup (best scores of all rooms): $500 cash prize
→ For the top 8 startups:
- Direct Applications to the ENRICH in the USA soft-landing programs to our different soft-landing sites at top research universities around the USA (12 months minimum) - with no interview.
- Special Access to Enterprise Europe Network transatlantic support services.
Agenda:
8:00 am PST - Introduction and Presentations from partners and sponsors, including on US-EU Collaboration on Research, Innovation, Trade and Funding - 2022 status and future
8:45 am PST - The Pitch session starts with a 15 min reverse pitch/presentation from investors and ecosystem experts followed by 16 x 15 min pitches from startups (5 min of pitch and 10 min of Q&A). Setup: two pitch sessions in 2 Zoom rooms in parallel - run by the ENRICH Hubs.
11:00 am PST: Announcement of Prizes/Awards
All the pitches are rated by the investors.
Startups can pitch for free or at a discounted price but all have to apply on F6S: https://www.f6s.com/funding-summit-post-ces-2022/apply
Price for groups/delegations (including for qualification and training).
"US Market Access and Perfect Pitch+" online training Program. Plus access to a library of pre-recorded classes. Scheduled dates: Thursday, Dec. 30, 2021 8:00-11:00 am PST and Tuesday, Feb. 1st, 2022, 9:00-11:30 am PST.
For the startups pitching , we strongly suggest this format:
Please follow this format and flow below (and use graphs and charts when appropriate) for your 5 min pitch.
Maximum15 slides in total (20 seconds average per slide) and please rehearse.
Slide #1: Project's / Organization's Name + The idea
Summarize it in one sentence (max 20 words).
Slide #2-3: The Problem
Define the problem (need) being addressed by your project. What are you trying to solve, for whom? The current solutions: Who else is already doing and why there is an opportunity? i.e. benchmarking competition.
Slides #4-5: The Market Opportunity
Define Your Market: What space you are in? Total Market Size (TAM/SAM/SOM), Your niche, and US market potential and trends.
Slides #6-7: Your Solution / Technology
TRL, competitive advantage, 4P positioning, SWOT.
Why you? Founders' bios and achievements.
Slide #8-9-10: Revenue Model
Please describe how you are planning to launch/grow in global markets, and especially in the USA, and generate revenues. Cash Flows and Funding Strategy. Show Metrics and Scalability.
Slide #11-12: Achievements
Show your timeline and milestones to date. Existing Customers and Other Partnerships. $ funding obtained. IP protection.
Slides #13-14: Next steps
In general and for the US market.
Raising capital: Amount, valuation, proposal, etc.
Slides #15: Thank you, Team & Contact info.