| | |
| --- | --- |
| Enough with the Drama! Acting "Italian Style" | |
Event Details
Enough with the Drama!
Acting "Italian Style"
by Theatre Director Lorenzo Maragoni
2-day basic acting workshop on Italian-style Comedy (Commedia all'Italiana).
Have you ever fancied yourself acting scenes from an Italian movie? Have you wondered where many Italian actors get their unique sense of humor, how they manage to never take themselves too seriously, and, last but not least, what's the meaning of the countless gestures and physical expression that Italian actors (and non-actors) use on a daily basis? This workshop is an opportunity to find it out! With a series of games and improvisation exercises, we will play acting "Italian style", taking inspirations from the masterpieces of Commedia all'Italiana proposed by IISA during the Summer semester 2013. We will do both group and individual exercises, and maybe find out a little more about what makes the acting of Totò, Marcello Mastroianni and Roberto Benigni so real and funny at the same time. The workshop is open to everybody, as no previous experience is required, but just the desire to put yourself to test and have fun. It will be held in English, unless the participants unanimously agree to do it in Italian.
The workshop consists of two independent sessions; attendance to either one or both is possible.
-------------
Lorenzo Maragoni was born in Terni, Italy, in 1984. He graduated as an actor at 'Teatro Stabile del Veneto' acting school based in Padua, Italy, and soon developed an attitude to directing. Since then, he studied with international directors such as Eimuntas Nekrosius, Cesar Brie, Gennadi Bogdanov, and worked as an assistant for italian directors Damiano Michieletto and Giorgio Sangati. In 2010 he founded the company Amor Vacui, for which he directed several plays, staged in theatre festivals and contests for emerging companies. In 2012 the play This Is The Only Level wins Premio Off#3, an award for emerging Italian companies. Since 2010 he has been leading courses and workshops on acting, both for students and professionals.
Where

Room 2030
Valley Life Sciences Building
University of California at Berkeley
Berkeley, CA 94720


Organizer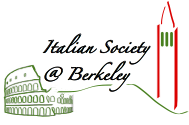 ---
The Italian Society at Berkeley is a cultural and academic organization. It was founded in 1999 as the Italian International Students Association (IISA), with on-going Italian movie screenings with a biweekly frequency. In 2015, the IISA joined forces with BIN (Berkeley Italian Network), an informal network of students and scholars to form the Italian Society at Berkeley.
The purpose of the Italian Society at Berkeley is to promote Italian culture in the UC Berkeley and Lawrence Berkeley National Laboratory (LBNL) communities, and to foster academic, cultural and professional connections and exchanges between Italy and UC Berkeley/LBNL, between Italians in Italy and Italians at UC Berkeley/LBNL, and between Italians and non-Italians at UC Berkeley/LBNL. The Italian Society at Berkeley also assists incoming Italian students at UC Berkeley/LBNL by facilitating their integration into the UC Berkeley/LBNL communities.
The Italian Society at Berkeley organizes and promotes events such as art and music exhibitions, theatrical performances, film screenings, food festivals, research symposia, academic presentations, and networking events.
All the events are the product of voluntary work on the part of the members of the Italian Society at Berkeley.