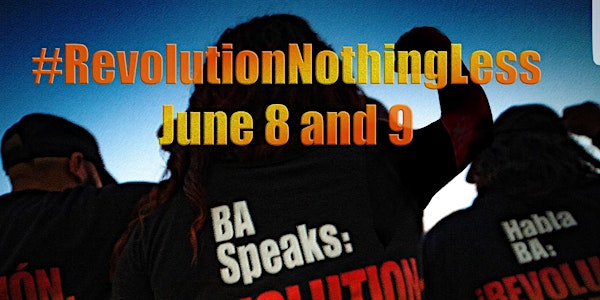 Enough! Basta Ya! Revolution—Nothing Less! June 9th Workshop
This is for ALL those who hate what this system does to people here and around the world, joining with others who feel like this-DEFIANT!
When and where
Location
Peace Center 3916 Sepulveda Boulevard Culver City, CA 90230
About this event
We are the National Revolution Tour. We have the science, the strategy, and the leadership in Bob Avakian to MAKE an actual revolution. We are going across the whole country, organizing people into the revolution. So...
If you are fed up with this system and its horrors, and with its phony "solutions" that are no solutions... then we have a message for you:
Revolution is needed. Revolution is possible. And we are organizing to make it real.
This is part of the Revolution Weekend: Enough! Basta Ya! We Need An
Actual Revolution. A Better World IS Possible. Find out and join in on
Saturday: https://revcom.us/a/598/plan-and-purpose-for-june8-en.html
This revolution needs YOU—your ideas, your initiative, your direct participation and your support.
The schedule for this day goes as follows:
10am: Start and opening remarks
10:15 to 11am: Ice breaker sessions: A better world IS possible. Talking together about the world we want to see.
11:15am - 12:45pm
Workshop Sessions 1
A. What is the new communism, who is Bob Avakian and why this is a game changer for the emancipation of humanity?
B. What is the strategy for revolution?
1 - 2pm: LUNCH
2pm - 3:30pm
Workshop Sessions 2
A. Revolution Club Organizing 101
B. Spreading the word, changing thinking of millions towards this revolution – a new web presence: the website, social media, and media.
3:30pm: Closing Remarks